LSU Tigers (23-8) vs. Iona Gaels (23-7).
When: Thursday, 7:10 p.m.
Where: Jacksonville, Fla.
LSU
1. But These Go To 11... It has been 20 years since Louisiana State made their last Final Four — when they were a No. 11 seed, still the lowest ranked team to make the national semis. The current Tiger team, which clinched its first outright SEC regular season championship in 21 seasons, is seeded a lot higher but whether or not they return to the final four 20 years later remains to be seen. At what stage will the Tigers get 86'd in '06? Or will they?
2. "Jam"-balaya. LSU possesses a dangerous inside presence with Glen Davis and Tyrus Thomas. The two Tiger underclassman have already earned their stripes; super-soph Davis racked up seven straight double doubles to end the regular season, and frosh-phenom Thomas notched four straight double doubles before getting hurt. When all is said and done Davis and Thomas could administer a Tiger mauling on clubs not seen since the likes of Montecore.
3. Eye Of The Tiger. All eyes will be on Tryus Thomas. The Tigers, who suffered numerous injuries to key players throughout the season, won t exactly be limping into the tournament. Coach Brady lionized his freshman forward stating "everyone knows we played without the freshman of the year for four straight games, and everyone knows he's going to be back next week and help our team be better than it is right now." — Shane Igoe
G/O Media may get a commission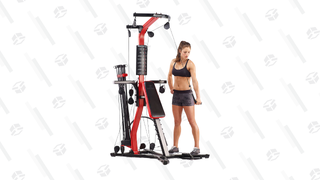 31% Off
Bowflex PR3000 Home Gym
IONA
1. Don t Give Up, Don t Ever Give Up. Even before he frantically ran around the court looking for someone to hug when he won his national championship at NC State, Jim Valvano was a hug-seeker as the Iona head coach (1975-80). Valvano's biggest recruit (literally and figuratively) was Jeff Ruland, now the Gaels' coach himself. Ruland chose tiny Iona over monster schools and legendary coaches. "There was a game I had in high school, and Bobby Knight was there, another coach and V. Bobby Knight came over and said what a great game I had. The other guy came over and said 'Great game.' V just walked over and told me, 'Boy, you really stunk tonight.' And I really appreciated that because it was the truth."
2. Like Father, Like Son. Iona's top two all-time leading scorers share the same name: Steve Burtt. With the 2006 MAAC title, both father and son have also won it all for their schools. Now the Burtts also share a legacy as they are the NCAA s all-time father/son scoring tandem with more than 4,500 points between them. Take that Doug and Chris Collins, Bill and Luke Walton and especially you, Mike and Mike Dunleavy! The elder Burtt has even managed to resonate with Little Stevie's generation: He s the coach of Team AND 1 on the "Mixed Tape Tour" show that runs at all hours on ESPN2.
3. He s HOW Old? Guaranteed to get some CBS camera time during the Gaels' first round game will be trainer emeritus, JB Buono. At 94 (with 50-plus years in New Rochelle, where Iona is located), Buono has likely taped more ankles than all the 64 other trainers in the tourney combined. Buono claims to have had sexual relations with Hitler s mistress, Eva Braun, and is also said to have fished with Lou Gehrig. Or maybe he had sexual relations with Gehrig and fished with Braun - either way, it's pretty amazing. — David Scott
Deadspin Printable Bracket (PDF) (JPG version)
Join The Deadspin Pool!
NCAA Tournament First Round Schedule [Deadspin]
Complete Deadspin First Round Matchup Previews [Deadspin]