Nevada Wolf Pack (27-5) vs. Montana Grizzlies (23-6).
When: Thursday, 3:10 p.m. ET
Where: Salt Lake City
NEVADA
1. There Isn't Much Sex ... On Campus, Anyway. Terrence Green played basketball at the University of Nevada from 1999-2003. Lyndale Burleson is on the current Pack squad. Burleson is the little brother of Minnesota Vikings' receiver (and former Nevada standout) Nate Burleson the only Viking NOT to go on the Sex Boat. Green is the cousin of A.C. Green ... a.k.a., "Oldest Person to Lose His Virginity." Needless to say, thanks to Green and Burleson, sex on campus has been non-existent for the last seven years. This, in light of the fact that there are more than a dozen casinos, several strip clubs and a myriad of bars/taverns/watering holes within walking distance of campus. A half-dozen legal brothels are also located within an hour's drive. Brothel age limit: 18.
2. What Is A Mucker? Perpetual crowd favorite Curry Lynch played for a high school team nicknamed the "Muckers" (insert your own joke). There are two high schools in Nevada with that nickname. Virginia City (Lynch's alma mater) and Tonopah (alma mater of college football's single season rushing record by a freshman (Chance Kretchmer's 1,732 yds). A Mucker is the poor bastard that has to go down into the mine and muck out the muck. Combined, both schools have an enrollment of less than 200 students.
3. Nick Fazekas' Family Is Badass. In 1947, Nick Fazekas' grandfather, a Hungarian soldier, wrapped his wounded leg with a gasoline-soaked rag to promote infection and reduce the chance he'd be carted off to a Siberian gulag by the advancing Russian army. The ruse worked. I'm not sure if it was Fazekas' ingenuity, adroitness and serendipity, or just the Red Army being the Red Army. Shame Fazekas' grandfather was, you know, on the wrong side and all. — pj Connolly
G/O Media may get a commission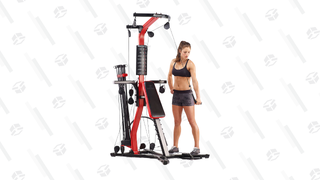 31% Off
Bowflex PR3000 Home Gym
MONTANA
1. Duke has "Coach K;" Montana has "Coach Special K." Talk about a golden boy. Grizzlies coach Larry Krystkowiak (pronounced kriss-koe-vee-ack) has come home, and Montana fans adore this guy. Born in Shelby, Mont., he s still UM's all-time scoring and rebounding leader. He was the 28th pick in the 1986 NBA draft and spent 11 years in the league. After a stint coaching the CBA's Idaho Stampede, he was named head coach at Montana before the 2004-05 season and promptly led the team to a conference championship. Even though his NBA nickname was "Special K," he's known in Missoula as "Krysko."
2. Family-friendly fun! The University of Montana Athletic Department encourages you to bring your kids to games — then drop them off with strangers so you can actually enjoy yourself. Griz Kidz Care, an in-game childcare service, is open for women s and men s home basketball games. The athletic department does ask parents to pick up their children "immediately upon the conclusion of the game." Spoilsports.
3. Off To A Slow Start. In its first three years of existence, the Montana basketball team went 2-1: In 1901-02, they lost to Preps 18-11; in 1902-03 they beat Tzi Dal Tais 25-19; and in 1903-04, they destroyed the Missoula Athletic Association 20-0. The Griz finally hired a coach in 1904-05, but didn t play any games — perhaps gathering enough energy to finally play more than one per season. In 1905-06 (under a different coach) Montana went 4-2, creaming the YMCA three games in a row, then beating Missoula High before dropping two straight to Montana State. — Jennifer Philion
Deadspin Printable Bracket (PDF) (JPG version)
Join The Deadspin Pool!
NCAA Tournament First Round Schedule [Deadspin]
Complete Deadspin First Round Matchup Previews [Deadspin]