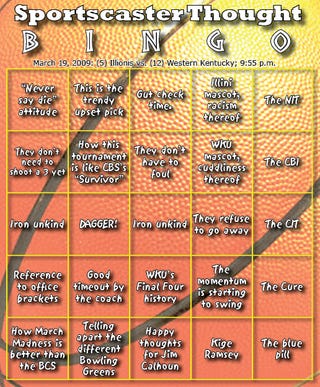 Your live blogger for this game will be NBCSports.com contributor Yoni Cohen, whose Internet home is Yoco Hoops.
*****
Nation: Cinderella is nowhere to be found in Portland. Whatever the outcome of tonight's game, it will not be an "upset." Illinois is the higher seed, but because Fighting Illini point guard Chester Frazier is out with a hand injury, everybody who is anybody (the President and Ms. Andrews excluded) has picked Western Kentucky to advance.
The yocontrarian in me is skeptical. For starters, the Hilltoppers are without last year's starters. Gone from Western Kentucky are Ty Rogers, Tyrone Brazelton, and Courtney Lee. What's more, the Fighting Illini have more... of everything that matters in March. Height. Experience. Terrific perimeter defense. Quality wins. (Western Kentucky beat Louisville in November, but hasn't been an RPI Top 99 opponent since). An alumnus who founded this here blog. Even a coach, Bruce Weber, who used to drink warm beer to survive.
What does Western Kentucky bring to the table? Plenty, as the YouTube monkeys among you well know. There's this forgettable highlight reel of Orlando Mendez-Valdez's unforgettable triple-double. There's also this signature moment, Steffphon Pettigrew's signing with the Hilltoppers. And this less than awe-inspiring camerawork filming Sergio Kerusch's awe-inspiring handiwork.
But enough with the past. Let's go back to the future. Another Western Kentucky "upset?" So says my bracket (despite my above misgivings). Stay tuned.
18:09: Illinois misses, Western Kentucky mascot claps.
17:06: Why can't Western Kentucky keep control of the basketball? The Hilltoppers aren't especially prone to turnovers.
15:16: Demetri McCamey has missed his first three field goal attempts. As goes McCamey, so go the Illini?
12:33: Number of times the camera has zeroed in on Illinois coach Bruce Weber? Two. Number of times the camera has zeroed in on Western Kentucky coach has zeroed in on Western Kentucky coach Ken McDonald? Zero. Welcome to the league, rookie.
9:35: Monkey see, monkey do? Western Kentucky's game plan is to run and quicken the pace. But why is Illinois obliging the Hilltoppers? The Fighting Illini typically prefer to take their time.
8:28: Per statistician Bill James' calculator, Western Kentucky's 12-point lead is only four percent safe.
7:19: Mike Davis hasn't attempted a field goal in six minutes. Just sayin'.
6:36: Patience, dear Illini, patience.
5:56: Crazy Western Kentucky shot off the glass. The hustling Hilltoppers are getting all the bounces.
4:57: Illinois passes to Mike Davis. Illinois scores two points. Rocket science!
4:55: Western Kentucky calls a timeout. Why? Beats me. The Hilltoppers had all the momentum going into the TO. Coming out of the TO? It's anybody's guess.
3:43: The refs are letting 'em play (to Western Kentucky's benefit). In the game's first 16 plus minutes, Illinois and Western Kentucky have taken only four free throws - combined.
3:07: Western Kentucky's bigs are surprisingly quick.
2:29: Readers: Ask and ye shall receive. Illinois' quality wins: Missouri, Purdue (twice), Ohio State (twice), and Michigan (twice).
0:09: Chester Frazier's absence is killing the Illini, whose perimeter defense is as porous as can be. The Hilltoppers' guards are getting are getting into the lane at will.
HALFTIME: First look at the box score:
(a) Perhaps Illinois should stop jacking up threes? The Fighting Illini would be better served exploiting their size advantage down low.
(b) Western Kentucky's bench isn't known for its offensive contributions. If the Hilltoppers' bench continues to shine, they'll be tough to beat in the second half.
(c) All five WKU starters have scored at least four points.
(d) Illinois has led 23 of 31 games at the half. (Why can't I quickly find the Illini's record when trailing at the half? The tubes are failing me).
(e) No significant foul trouble for the Hilltoppers.
20:00: If the Illini play better team defense this half, they have a shot. (They were a little slow to help during the first 20 minutes). If not, they're toast.
18:57: Another Western Kentucky layup. Perhaps the Fighting Illini should try playing zone defense?
18:17: WKU penetrates again...
17:30: Finally, a pretty pass by Illinois.
16:55: Followed by a quick jumper (and brick). One step forward, two steps back for Weber's club.
15:00: In the first half, Illinois played hard — but Western Kentucky played harder (and smarter). In the second half, the Fighting Illini appear to have accepted their bracket busting fate.
14:43: Dear Mike Davis: Please stop pointing to where your teammates should go. Please start going to the paint yourself and calling for the ball. Sincerely, Illini Nation.
14:43: Per Bill James, Western Kentucky's lead is only 10 percent safe. Really? Not really. Unless Chester Frazier pulls a Willis Reed, this game is over. Let the Big Ten bashing begin!
14:09: More bad news for Illinios: Calvin Brock picks up his fourth foul. The Fighting Illini weren't deep to begin with (particularly without Frazier).
12:10: Illinois jacks up another jumper. Ugh.
11:32: Smart move by Western Kentucky to slow it down.
11:21: WOW. What a dunk by Sergio Kerusch.
10:51: And another by Jeremy Evans. Ouch.
10:16: Another Illinois three. Comeback? Western Kentucky (again) wisely slows it down in the halfcourt.
9:22: Dagger from "OMV."
8:25: Slaughter nails a runner. Everything is going right for WKU.
8:10: Obligatory pre-commercial shot of an unhappy Bruce Weber. He looks like he has resigned himself to an extra-long summer.
8:10: Five Hilltoppers in double figures.
7:20:: Obligatory shot of an unhappy Chester Frazier. Makes me thad.
6:05:: Western Kentucky continues to crash the glass.
4:28: Western Kentucky 68, Illinois 51. Morale of the story: Bruce Weber needs to recruit better players.
3:05: All is not lost, Illini Nation. Remember the Fighting Illini's Elite Eight comeback against Arizona several years back?
2:05: As if on cue, Illinois nails a three, then Calvin Brock draws a foul and nails both free throws.
1:24: Seven point game...
1:18: Terrible call. WKU pass was tipped by Illinois' Mike Davis. Hope the officials change their mind on further review.
1:07: Not sure why A.J. Slaughter opted not to dribble after receiving the inbounds pass. (Did he think Illinois was going to foul?) He all but assured he would get trapped and have to waste a timeout.
0:33: Wow. WKU goaltends. Illinois has cut the lead to three.
0:23: Good no call. Let 'em play the game... Illinois again cuts lead to three. Hilltoppers have struggled to inbound late in the second half.
0:16: Slaughter misses the first free throw. Wow.
GAME OVER. It's a wrap. Western Kentucky wins. Thanks for watching, thanks for reading, and enjoy tomorrow's games.