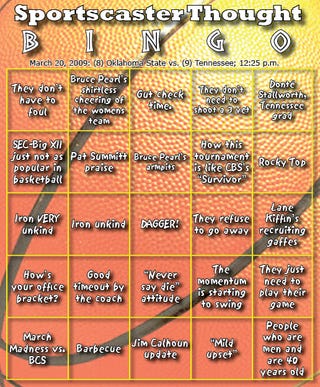 Your live blogger for this game will be David Chalk, the consummate Devil Rays blogger at Bugs & Cranks.
PREGAME: This is a real exciting game, because both teams are just SIX wins away from immortality.
PREGAME: Well college basketball immortality anyways. (Obviously.) I'm also excited though because this is my first ever basketball live blog. Famous baseball player Evan Longoria once live-blogged a NBA playoff game for Bugs & Cranks though, and he gave me some tips while he was getting ready to save America's ass in the WBC this weekend.
PREGAME: I don't really have a rooting interest in this game, so feel free to try to win me to your side in the comments. My bracket's already pretty much shot because I had VCU going to the Elite Eight.
PREGAME: Lot of Orange on the floor today. To get ready I got a donut with Orange Sprinkles this morning. I always have an orange marinating in Gin, but I'm trying to wait for halftime for that.
PREGAME: Games almost underway — we'll play two 20-minute halves, and then maybe six or more 5-minute "overtime" periods. (Basketball version of Extra Innings.)
PREGAME: Starting lineups from the University of Dayton Arena in lovely Dayton Ohio — Hopson, Smith CHISM, Maze, Prince for Tennessee. Eaton, Harris, Moses, Anderson, and Page for Oklahoma St.
19:44, 1st: Oklahoma State takes the early lead 3-0 on a trey by Anderson. Did you know the team that scores first in the NCAA Tournament wins 69% of the time?
18:56, 1st: It's raining TRIPLES! (Three-point baskets, that is.) Now 6-3 OSU.
17:45, 1st: Make that 6-6. Nothing but threes so far from these teams that obviously like to party DOWNTOWN.
16:42, 1st: Finally someone drops a DEUCE. 8-6 OSU after the DEUCE dropped by Eaton, younger cousin of former Jazz great Mark Eaton
First commercial break, 15:32, 1st: 10-9 OSU.
UPDATE: Old school live-blogging is too much typing, I'm going to attempt to switch to CoverItLive. I was advised to disable comments, but I usually do the opposite of what I'm advised. I trust y'all will be on your best behavior, don't disappoint me.