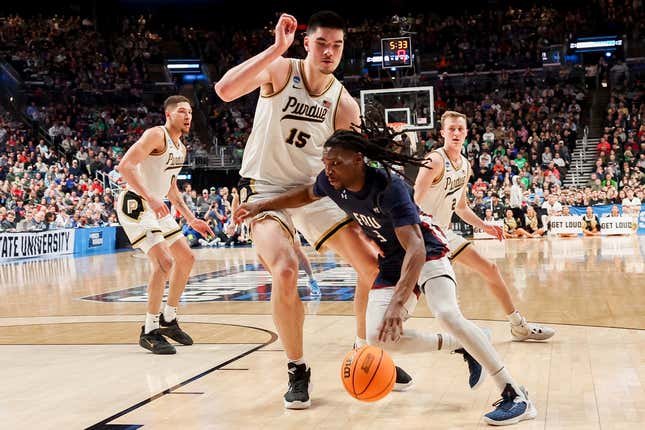 I have a question for both college and NBA basketball fans: When was the last time a team won anything with a low-post big man as their No. 1 option? Purdue's Zach Edey is going to take home a treasure trove of hardware, and lucky for him, he'll be at his place of residence to make sure no one poaches any trophies off his doorstep. The Boilermakers became the second No. 1 seed to lose to a 16 seed in the NCAA tournament, and congrats to Fairleigh Dickinson.
Does the NBA need to fix the All Star Game?
If you thought the upstarts couldn't get more eccentric, let me introduce you to the Knights from Teaneck, New Jersey. Coach Tobin Anderson called his shot the day before the game, and his center-free rotation swarmed, frustrated, and harassed Purdue all night. You could just tell from the Boilermakers' inability to get separation that the game was going to come down to a clutch play at the end.
Forward Sean Moore delivered said play, cashing a three with just over a minute left to give the Knights a five-point lead. The final 60-plus ticks were agonizing for both fan bases before Fairleigh Dickinson sealed the win with a pair of free throws to end the scoring at 63-58.
This March has been unlike any other as it's the first time a No. 1 and No. 2 seed have both lost in the opening round. Arizona, whose big men also fumbled away post feeds and iso touches, fell to Princeton on Thursday, and if your bracket is still intact, I have a few personal effects I'd like you to bless.
So, congratulations to Fairleigh Dickinson on the win as well as upsetting Gradey Dick as the entity most likely to evoke a dick joke that my editors will cut.
Don't believe in the return of the big man until a non-unicorn big wins something
For all the hype Nikola Jokić and Joel Embiid get, neither has been to the NBA finals. You could talk me into Drew Timme's importance to Gonzaga when the Bulldogs played Baylor in the title game in 2021. Yet, the last team to finish atop the heap in March with a true low-post big man as the player of the tourney was North Carolina's Sean May or UConn's Emeka Okafor in 2005 and 2004 respectively. Kentucky won with Anthony Davis in 2012, but he's been pushing back against playing center for his entire pro career.
You have to go back to 2005 or 2006 in the NBA. Tim Duncan was the finals MVP in 2005, and 2006 was the first Heat-Mavericks finals. Dwyane Wade won finals MVP, but Shaquille O'Neal was still such a force that the offense revolved around the threat of him around the hoop.
We've reached the point in basketball as a sport where centers can't be limited to just paint skills. If a big can't space the floor, handle the ball, or play make, he's reduced to blocking shots and catching lobs.
The closest thing to an old-school franchise center in the NBA is Embiid, and the jury is out because it remains to be seen if he can be the focal point of a title run. Jokić is plodding, but the passing is so advanced that labeling him as a center is an insult. Be that as it may, his most consistent postseason success has come with Jamal Murray as a 1A in crunch time.
Pundits have called Giannis Antetokuonmpo a modern-day Shaq, but that's not fair. The Greek Freak is a unicorn in the true sense of the term, which isn't simply a big man with guard skills, but rather a big man who moves like a guard.
Shaq was one of one, but even he moved superbly for a person of his size. That's why I'm not sure O'Neal could get played off the court in any era. Usually, he was the one forcing personnel changes. We haven't seen that kind of gravitational low-post force since Duncan, and I don't think we're going to ever again.
Basketball is not only too skilled of a sport for one-note big men, but relying on another position to feed you the ball is ludicrous. Every entry pass to Edey was met with two to three defenders, and even though he finished with 21 points and 15 rebounds, Purdue's approach was antiquated.
Why am I saying this? I find that I remember things better when I write them down, so the next time I go to make a grand proclamation (or fill out a bracket), I'll think thrice about backing a team whose offense depends on a big man.