Alyssa Labrie first posted on Facebook privately over the weekend, saying New England Sports Network anchor Marc James exploded at her in a string of angry text messages after she said she didn't want to get drinks with him. Labrie told me that after she heard from people saying it needed to be known, she made the post public. She's since talked to reporters as well as NESN, and said that she heard back from them that the TV network was taking the claim seriously.

So far, NESN hasn't said a word publicly. I've emailed spokesman Gary Roy and left him a voicemail but have not heard back. Awful Announcing cited a NESN source saying James was suspended for two days.

[Update (Oct. 12, 1:31 p.m. ET): NESN sent Deadspin a statement on Thursday: "Earlier this week Marc James was suspended for a week as a result of his inappropriate actions and has written an apology expressing his regret."]
Labrie gave me a recap similar to what she has said in other interviews. The recent UMass Amherst graduate said she was working at a photo shoot when James approached her and said he was in the entertainment industry. Thinking he might be a good professional contact, Labrie gave him her number. Over the next few months, she never physically saw him again, but he would text her about hanging out, as well as send unsolicited photos or videos of him at work. She told me she would either say she was busy or didn't respond. She figured he'd get the message, and she didn't want him to potentially hurt her professional career.
"I really just hoped he would take the hint so I wouldn't have to hurt his feelings directly," she said, later adding, "He obviously didn't worry about mine at all."
G/O Media may get a commission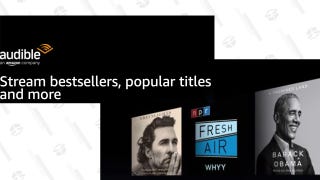 FREE
Audible Premium Plus 3-Month Free Trial
The text messages are below. Labrie is in blue; James is in grey.
"When he blew up, I was in disbelief. I had no idea this professional, older-than-me man who works with me in the industry has never gotten rejection before," Labrie told me. "He just seemed to immature and childish ... it baffled me. That's why I kept responding."
Reporter Ali Reid got in contact with James. The NESN anchor told her that those text messages were not on his phone, and that someone else was holding his phone at the time the text messages were sent. From Reid's report on her blog:
"First of all, I can tell you that I was with a bunch of people last night watching college football, and one of the people I was with was a girl, and she mentioned 'hey, you're getting some text message from this girl, Alyssa' to which I replied that I had asked her to meet up. After the girl scrolled through our previous texts, she mentioned that Alyssa was being a bitch to me, and wanted to go back and forth with her. (over text) I said to not do anything at all, and to not tell her anything. So then after seeing this article, and not finding the text message exchange on my phone, I reached out to the girl who then told me she had blocked and deleted her… (from my phone) so I had no idea. The phone was not in my hands for that period of time last night and I can guarantee you that none of those texts are on my phone. I was extremely irate when I read this, (article written by Babe) and this is definitely not me… at all, at all."
James also said the videos he sent were a result of him mass-texting all his friends. He did not give Reid the name of the other person who might have sent the text messages to Labrie.
Reid dug around on the internet and found that James used to work under the name "Marc Benarzyk" but stopped using it (a blog about South Florida sports coverage also says he changed his name). The Atlanta Journal-Constitution reported in 2015 that James had been fired from Atlanta radio station 92.9 The Game with no clear reason for his departure. One rumor included in the report was that James was trying to get autographs from Mets players. She also talked to several former coworkers, who relayed stories like this:
Former part time Host/Board-Op for WHBO 1040, Pat Donovan, recounted a stroll he once took with James around the baseball field. "He actually one time asked me to walk around the ballpark with him so that he could talk to girls. He saw this chick and how hot she was and he had told me that he wanted to hit on her. He comes across as this confident man, but when you get to know him even just a little bit, you can see right through that, and you realize how unbelievably self-conscious he is… like, exceedingly. He is one of the few people that I have ever said to his face that 'I dislike you', and, 'you're a bad person'."
I haven't seen James quoted anywhere since Reid's report. Labrie told me that tonight James texted her an apology.
CORRECTION: An earlier version said that James sent Labrie unsolicited photos or videos of him working out. He sent her unsolicited pictures of himself at work.