DeMaurice Smith, the rookie executive director of what's left of the NFLPA, is dropping some serious oratory on his constituents these days, name-checking Hamlet, Nicolas Sarkozy, Napoleon, Iran and Young Jeezy, all in one speech. He's the realest!
NFL.com's Vic Carucci went to the NFL Rookie Symposium and sat in on Smith's address. It was a doozy, something like Walter Reuther with a bass beat:
"The fundamental truth of progress is that we only surpass history when we embrace it," Smith said. "Mature thought is a thought where we now understand not only what we do and who we are, but where we are and where we exist in the world.

"If you let people define you as just a player, I guarantee you one thing: You will lose. So who are you? You're fathers, you're sons, you're brothers, you're husbands. Hamlet talked about that famous question: What is it to be? If you remember any part of that soliloquy, the answer to his question was the question itself. It was an understanding of who he was in relation to the world in which he lived. He was a brother, he was father, he was husband, he was a son. That's who you are."

[...]
That includes, Smith said, remaining a "vital participant" in the world. He then discussed how a week ago, French President Nicolas Sarkozy addressed both houses of parliament for the first time in 150 years. "That doesn't seem like that big of a deal," said Smith, "except the last person to do that was Napoleon."

"You saw students in Iran walk up and down the streets to protest the lack of democracy for the first time in almost 50 years. Why? Because they challenged status quo," Smith said. "Last week you had people who fought on the streets of Iran. Why? Because they wanted to have a vote.

"There are things that we have to battle, and the blessing for us is that our battles, for the most part, will be about the game of football. But each and every day, things are happening in our world that truly inspire change, that inspire progress. And it is our job to grab hold of that and ride that thing because we are participants in what we do in our world.

"And, oh by the way, to quote (rapper) Young Jeezy, 'The last time I looked up, yeah, my president's black.'"
I think it's safe to say no sports labor boss has ever talked this way (so what if his oratory outstrips his grasp of history and Elizabethan theater); certainly not Gene Upshaw, a remote and vaguely hostile figure to his own clients. And this shouldn't be regarded as mere fancy-talk, either. Pro Football Talk had a bit of sport with his high-flown cultural references, but Smith's approach here — of connecting football's nettlesome labor issues with larger matters of social justice — is a smart one, and certainly much-needed. Consider the excellent account in today's Wall Street Journal of Smith's efforts to educate the players on the twisted economics of the league:
"How many people here know the National Football League is a non-profit?" DeMaurice Smith, the longtime Washington, D.C., lawyer asks 75 members of the Seattle Seahawks. No hands rise.

"How many people here know that the NFL has a special antitrust exemption granted to them by Congress?" Again, no hands. "We all understand the difference between a strike and a lockout?" Silence and blank stares.

[...]

About 75 minutes into Mr. Smith's seminar, the lessons begin to sink in.

Mr. Houshmandzadeh raises his hand and asks if it's OK to start talking about the public funding for the stadiums and the anti-trust exemptions when sportswriters interview him in the locker room. Mr. Smith tells him he should, and if writers don't publish his sentiments he shouldn't talk to them anymore.
G/O Media may get a commission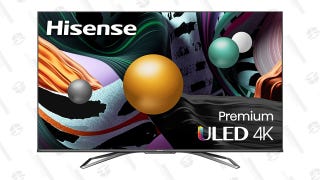 Save $350
Hisense ULED 65" Android 4K HDR Smart TV
This all very good strategy, especially with near-certain labor unrest looming in 2011. The players, more than Smith, more than even Roger Goodell, will be the face of that unrest, and at that point it will be their job to remind the public of the difference between a strike and a lockout. Charlie Batch, at least, has already gotten the message, which is a first.
NFLPA head Smith urges rookies to examine life beyond football [NFL.com]
Mr. Smith Gets Down to Business [Wall Street Journal]