Baseball's controversial new Chase Utley Rule was implemented for the first (update: second) time in a game tonight, and it could not have come at a more crucial juncture. Down by a run with the bases loaded and one out in the top of the ninth, Edwin Encarnacion slapped a grounder to third. Logan Forsythe tagged second to force Jose Bautista out, then boned the throw to first, allowing the go-ahead run to score for the Jays. Toronto had the lead, 4-3 with two outs and a runner on third.

But, as you can see, Bautista did some subterfuge on Forsythe, sliding on the inside edge of the bag and grabbing Forsythe's ankle. Rays manager Kevin Cash asked for a replay review, on the grounds that Bautista's slide violated the new double play policy. The MLB replay center ruled that Cash was correct, and they awarded the double play to Tampa Bay, ending the game and the Jays' chances of a rally.
Having a late lead snatched away from you and losing on a technicality—no matter how legally rigorous the basis is—has got to be one of the most frustrating scenarios in sports, and Jays manager John Gibbons was just as pissed off as you'd expect him to be after the game.
"Are we trying to turn the game into a joke? I mean, really. That was flat out embarrassing. That cost us an opportunity to win a Major League game. Was that the intent? Well, that's probably the results you're going to get. I was talking to some guys in Spring Training, said wait until it happens when it ends a game, a Major League game. It truly is an embarrassment."
G/O Media may get a commission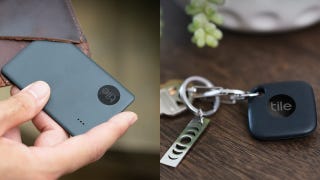 Up to 35% off
Tile Item Trackers
He continued, and shoved his foot right into his mouth:
Whether or not the rule is overly soft and warps the battle-hardened soul of "Major League Baseball: A Game For Men", Bautista grappling Forsythe's foot out from under him did prevent him from making the throw. Before you even get to the tripping, Bautista's progression past the base was legitimate grounds for his dismissal anyway.
After the game Bautista talked to reporters and sounded slightly more apologetic than Gibbons, if not still rather confused and mad about the whole boodoggle.
That last quote is rather telling. The rule which the Rays succesfully appealed to, Rule 6.01(j), reads: "Slides on potential double plays will require runners to make a bona fide attempt to reach and remain on the base. Runners may still initiate contact with the fielder as a consequence of an otherwise permissible slide."
There's still some uncertainty in that language, which makes sense given how fast double plays happen. But the wiggle room is going to make this rule very tricky to teach, and we'll probably see a few more teams disappointed by its implementation before the season is over.
Update: A reader points out that the rule was in fact also enforced on Monday and it cost the Braves a baserunner.