With Adidas taking over the contract for NHL uniforms from Reebok, that means redesigns for everyone. Any major redesigns? Officially, we'll all have to wait until tonight to find out. The jersey unveiling party is taking place in Las Vegas starting at 8 p.m. Eastern, with the reveal of the Vegas Golden Knights' jerseys to follow at 10. (The NHL is very bad at scheduling things people are actually interested in for times when they will be paying attention.) But, naturally, the leaks have begun.
This afternoon, a video went up on the Predators' site, showing a brief look at Nashville's new home jersey. It was pulled down soon after, but here's a look.
Ohtani has the WBC, but will Mike Trout ever lead the Angels to a championship? | Agree to Disagree
After that video was removed, one went up on the Blues' site showing their new home jersey.
G/O Media may get a commission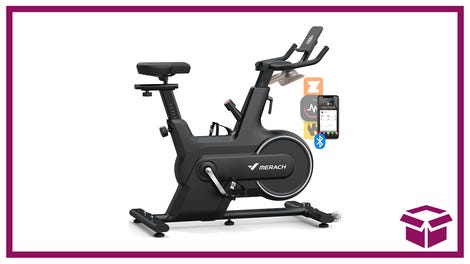 14% off + Coupon
Merach Indoor Cycling Bike
So, two things here. The first is that these leaks are not accidental. The NHL is rolling these out one by one in advance of the big reveal tonight, and that's a good move. It's a slow sports day, so why not spread these out to grab sustained attention?
Second, the actual changes to the jersey don't appear to be much so far, but from what little is out there, there's a pattern emerging. Compare the new Preds sweater to the old:
You'll notice the same thing with the Blues' jersey compared to the old: There's a lot more space on the left and right of the chest, above the logo. That's where ads are going to go.
The Adidas contract is for seven years, and by the end of it it feels inevitable that the NHL will introduce advertisements on jerseys. They won't go full European league yet, where the players look more like stock cars, but they'll start with small patches, much like the NBA is doing starting next season. NHL officials estimated jerseys ads could bring in $4 million a year per team, and if just for that fact alone, they're going to happen. The new Adidas jerseys were no doubt designed with that potential in mind.
So if you're underwhelmed by all the minor tweaks that have leaked and will leak today, just think of them as blank space for the truly big change that's coming.