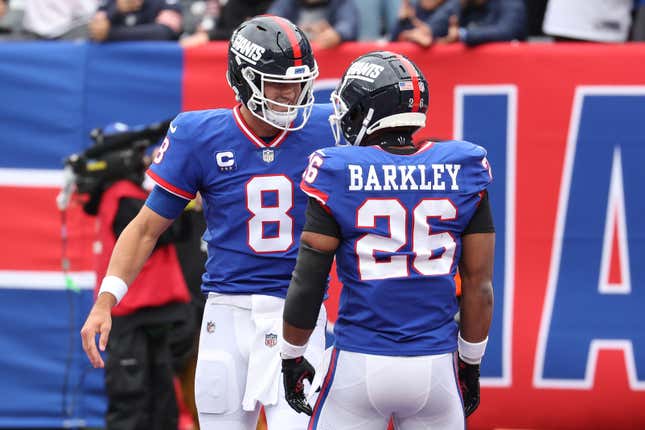 I'll be upset if there are no upsets during Wild Card Weekend, which kicks off today. That upset may not happen in the Seattle Seahawks and San Francisco 49ers game, and perhaps not with the Los Angeles Chargers-Jacksonville Jaguars. But bettors seem convinced that the biggest upset of the week will come from Brian Daboll, Daniel Jones, Saquon Barkley, and company.
Is Dan Snyder a human shield for Jerry Jones? | Conspiracy Thursday
What are the odds?
According to OddsChecker US, 83.3 percent of all bets on the Giants-Vikings moneyline have been placed on Big Blue. 83.3 percent! That sounds absurd, but it may not be as insane as it seems. For one, the 6-3 matchup has historically been pretty balanced. Since 2002, six seeds are 22-18 during Wild Card Weekend. Keep in mind, these are all road games. Not only are the three seeds supposed to be better teams, but they also have home-field advantage, and yet, more often than not, the six seeds manage to walk away victorious.

Do you really trust the Vikings?
Second, the Vikings have been considered frauds for weeks at this point. Every Vikings fan has already heard the point differential arguments. They're the only team in NFL history with 13 or more wins and a negative point differential. Hell, they're the only team with 12 or more wins to finish with a negative point differential. They've been embarrassed on the national stage on multiple occasions. That said, when games are close, the Vikings tend to do very well.
Keeping it close
Somehow, the Vikings are an incredible 11-0 in one-score games. They can't be stopped when the going gets tough. You'll remember one of those 11 wins was on a 61-yard field goal to beat the Giants in Week 16. However, the Giants are now well-rested. They sat their entire starting lineup in order to prepare for this game. The Vikings did to an extent as well, with Kirk Cousins only playing 54 percent of offensive snaps, Justin Jefferson playing only 51 percent, and star left tackle Christian Darrisaw playing only 54. Still, that's not a full week off. They were trying to win. They spent vital time preparing for the Chicago Bears that week. Given the Giants' plan of action in Week 18, I wouldn't be shocked if they've been preparing for the Vikings for two weeks now. They're going to come into this game with a plan so fleshed out, Batman could've written it.
History on their side?
Minnesota does have experience on its side though. In 2021, there were five quarterbacks making their first playoff appearance. They went 1-4 in those games. Daniel Jones will be making his first postseason appearance tomorrow. This will be Cousins' fourth appearance (third as a starter), and his last appearance saw his first postseason win. He's got that metaphorical chip off his shoulder and it's no longer weighing him down.
Have a 'dog in the fight
The Vikings are coming into this game as three-point favorites. Throughout the season, we've seen that bettors love to bet underdogs more than favorites in the hopes of a massive payday. However, if that were the case, bettors wouldn't be flocking to the Giants, but the Dolphins (+13.5) and Seahawks (+9.5) instead. The fact that bettors are going to the three-point underdog Giants shows that they truly believe the team will come away victorious. While I am worried that the Giants only won two of their final eight games, a betting advantage this outrageous doesn't just formulate out of thin air. You have to follow the money, and that makes the Giants' chances of winning all the better in my mind.