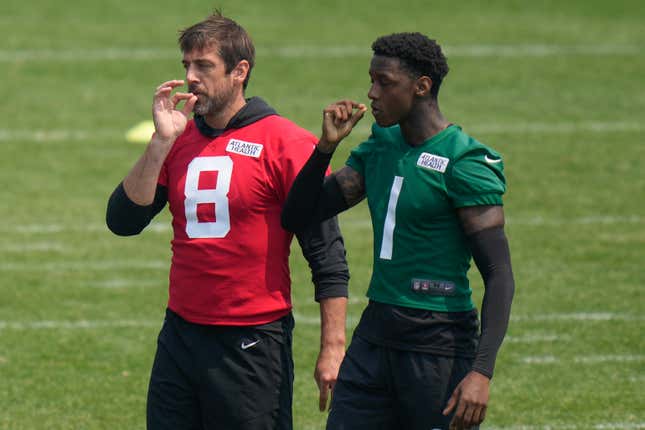 Congratulations to the New York Jets, the winner of a prize no NFL team wants: The honor and privilege of being on this season's Hard Knocks. The show, which has gone from one of HBO's bell cows to regularly scheduled programming, has lacked purpose for years primarily because teams and the NFL aren't going to give airtime to any storyline you might've seen in an episode of Playmakers.
Will Aaron Rodgers turn the Jets into instant contenders?
That said, if ever there was a personality, and a team, so perfectly starved for attention, you couldn't do much better than Aaron Rodgers and the 2023-24 New York Jets. If this doesn't work, and the guy who can turn coffee runs into internet content can't revive Hard Knocks, then HBO should retire the show.
The only way this doesn't work is if ESPN, the NFL, and football fans all get Rodgers fatigue, and since that doesn't seem possible, it's too shrewd of a move not to force upon the franchise.
It takes skill, or an overprotective partner, to make NFL training camps as monotonous and drab as they are portrayed on Hard Knocks. We get it. It's hot, it's muggy, it's competitive, and some special teams guy isn't going to make it. Tap Rodgers' phone, or see where Woody Johnson gets his massages. This league has all the drama of the best Hollywood blockbuster, and all HBO has to do is get Roger Goodell on board.
It's not like he gives a shit about the league's image, or his own, so let's slide this sport ever closer to North Dallas Forty and The Last Boy Scout. Is there someone on the DraftKings board that we can vilify? We know players are gambling in the locker room and on team planes, and those are the kinds of moments that will get you aggregated.
New York media outlets will overdo it
We've reached the point of no return on Rodgers and Jets coverage already, and I hesitate to even ask if it can get any more insufferable, because we've never actually reached the nadir of New York sports media. It can always get worse, and it'll be difficult for Hard Knocks to get further up the Jets' asses than the Post already is.
There will be a significant amount of fluff for New York's new star, and it'll get picked up, but whether you tap on it, or I write about it, depends on the gullibility of the person clicking.
No, it'll be more, "Aaron goes crystal shopping in the Village," or "Robert Saleh tries hot yoga at the behest of his QB." Meanwhile, Nathaniel Hackett is on staff, and somehow the camera crews will never be around to film him huffing smelling salts before scripting plays.
Can we please just get a raw feed of the quarterback's room to see how Zach Wilson is handling the condescension? You know there's somebody on the staff, or on the roster, who is already sick of the camera crews and renewed interest.
That person is probably Wilson, but still, I want to see inner-office politics, and shifting allegiances. Granted that usually happens during the season, the seeds of chaos can be sewn during training camp.
My biggest fake concern is that the show will be an overwhelming success solely because the Jets haven't been this interesting since Joe Namath. Regardless of if the hour-long program is at all redeemable, the sheer amount of Gang Green gangrene fans who are going to tune in will earn Hard Knocks another 10 seasons, and as someone who is fake outraged about a problem that doesn't affect anyone's livelihoods other than the people who work on the show, that is simply unacceptable.
Heed my words, HBO. Heed my fucking words!