The New York Post is taking their ESPN: The Banning like men. Men who use the gossip pages to settle grudges and blame everyone else for their obsession with naked sideline reporters.
Jokic? Embiid? The NBA MVP is obvious... right? | Keep it a Buck(et)
As you know, ESPN put a blanket network ban on all Post employees after their less than respectful treatment of the Erin Andrews video. The story didn't make the front page (or the sports pages) today, but a mini-item did mysteriously find its way into the gossip section this morning, just to subtly remind the network that everything that's happened so far is entirely their fault.
No one would have known that a sick voyeur had secretly videotaped ESPN reporter Erin Andrews nude in her hotel room, if the Mickey Mouse sports network hadn't sent a letter to an obscure Web site demanding that it take down its link to a fuzzy video of an unidentified blonde. The video had gone largely unnoticed since it first went up in February, according to a girlie-posting site, DonChavez.com. Last Thursday, NSFWPOA.com, which had linked to the Andrews shots, got a letter from ESPN counsel David Pahl demanding the "pictures of a young, blonde woman" be removed. It didn't take long for Web sites to identify the blonde as Andrews — and her lawyer soon confirmed it.
G/O Media may get a commission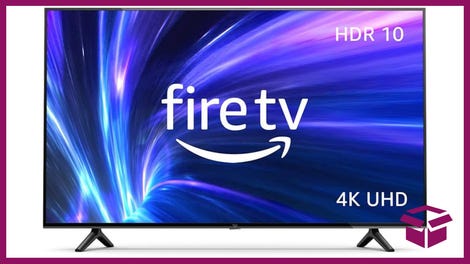 42% Off
Amazon Fire TV 50" 4K Smart TV
See? The girlie-posting Post was just doing what ESPN told them to. Maybe the network should ban themselves from their own radio shows, did you ever think of that?
ESPN OUTED ERIN VIDEO [NY Post]