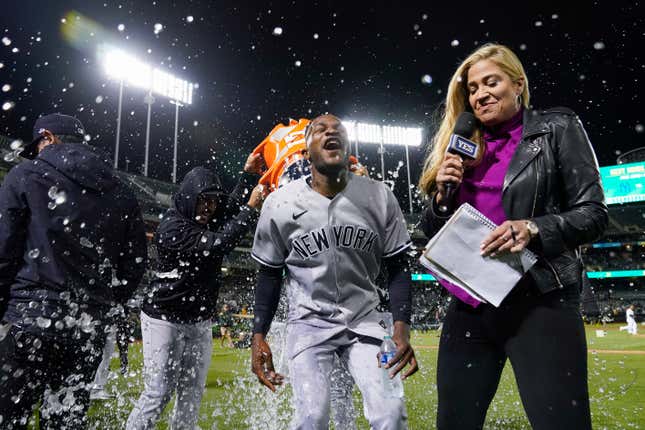 Domingo Germán achieved the pinnacle of single-game pitching performances Wednesday night, throwing only the 24th perfect game in MLB history, the first by a Dominican-born player, the fourth by a New York Yankee, and the first since in baseball Felix Hernandez in 2012. There have been plenty of no-nos in that timeframe, but this was by definition flawless.
Is Texas or Florida State a bigger national title contender? | Agree to Disagree
What he does next is almost inconsequential because now Germán's name will forever be etched into the annals of baseball lore next to other Yankees who also have caught their white whale. And judging by the company he's now going to keep — Don Larsen, David Wells, and David Cone — Wednesday night's performance will take him far.
Germán can be accused of being a total creep, or drop misogynistic analysis during a Mother's Day edition of Sunday Night Baseball. He can show his ass repeatedly, and likely still be invited to lob softballs at Old Timers Day at Yankee Stadium. It's a pretty blessed and forgiving existence… if you get it. (To be fair to Don Larsen, none of those incidents are references to him.)
The performance was so captivating that few, if any outlets, described Germán as "embattled" or "controversial." Yet, the 30-year-old pitcher served an 81-game suspension in 2019 and 2020, missing the entire COVID-shortened season due to a violation of the league's domestic violence policy following an incident at a team function when he slapped his then-girlfriend during the event, according to sources. Germán's alleged behavior then spilled into the night, when he became violent with the woman at his home, with a teammate having to intervene to halt the disturbance.
There was no police report because officers were never called, but since it happened at a charity gala hosted by former Yankee CC Sabathia, the league was able to gather enough evidence to sit him down for what, at the time, was the longest suspension issued under the domestic violence policy that MLB enacted in 2015.
I don't mind being that guy, especially when no one else volunteers. The only Germán suspension ESPN mentioned in its story about his perfect night was his 10-game ban this year for having "the stickiest hand I've ever felt," according to umpire James Hoye, in a game against the Toronto Blue Jays last month.
The most begrudging headline I saw was MassLive's "MLB team 'didn't make one adjustment' as Yankees pitcher throws perfect game," and I have to say, that could've been slightly more inflammatory. The New York Post did dig into Germán's past, so the publication is to be commended for the fourth time in its history, as well.
Germán's best season was the same year as the domestic violence incident, and he has since struggled to regain the form that saw him go 18-4. He's 5-5 this year with a 4.54 ERA, and was coming off a start in which he got shelled. Perhaps this was the kind of night that'll put his career on a similar path as Wells and Cone, who were good-to-great pitchers during their 15-plus year careers. Or maybe he becomes the answer to a trivia question like Larsen, who also is the only pitcher to throw a no-hitter in the World Series by himself.
However, the past is now irrelevant, and the future comes with four lanes of leeway. Domingo Germán threw a perfect game, and in all likelihood that will be the first item mentioned in any discussion of him down the line.