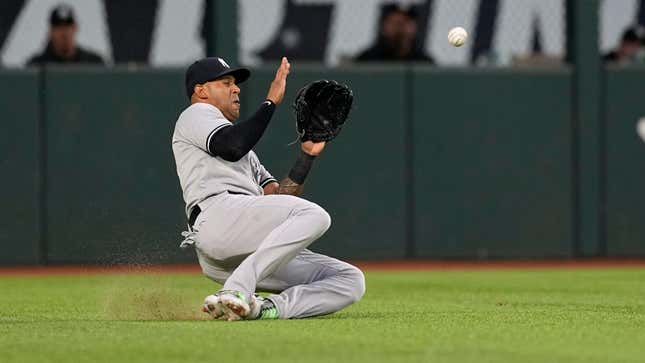 The New York Yankees swung a trade with the rival Red Sox for outfielder Greg Allen, and needed to make a corresponding roster move. The Bronx Bombers could have optioned Oswaldo Cabrera, or cut ties with Jake Bauers, or Willie Calhoun. Instead, Aaron Hicks' disastrous eight-year tenure with the team is over. The 33-year-old, who still had three years and nearly $30 million left on his contract, told the New York Post on Saturday that he'd been DFA'd.

"It is what it is," Hicks told The Post. "It's part of the business side of it. Just got to move on to the next chapter.
Does Joe Maddon agree with Dusty Baker's choice to pull Cristian Javier after the 6th in Game 4?
Update: Hicks cleared waivers — did you think was anyone going to trade for that contract? — and is now a free agent. 
He may remain in the AL East. He will remain in the AL East, as he has signed with Baltimore.
According to MLBTradeRumors, the Yanks are on the hook for the rest of Hicks' $10.5 million salary, the $9.5 million he's owed in both 2024 and 2025, as well as the $1 million buyout for his 2026 club option.
A hot streak couldn't save him
Though he was starting to heat up, Hicks still posted a .188/.263/.261 slash line in 28 games, striking out 20 times and not recording an extra-base hit until May 7 against the Tampa Bay Rays.

Earlier this month, R.J. Anderson made his case for New York to can Hicks, whose best work in pinstripes is way, way in the rearview mirror.
"You don't have to understand or agree with the replacement-level concept to agree on this much: there are scores of minor-league outfielders who, given the opportunity, could provide the Yankees with more than Hicks has to date. Just eat the money already," Anderson wrote.
Allen will join a crowded Yankee outfield, that also includes reigning American League MVP Aaron Judge, Harrison Bader, Bauers, and Calhoun. Both Bauers and Calhoun are both out of minor-league options, and the Yankees seem high on the former. Bauers and Calhoun are younger — 27 and 28, respectively — cheaper, and have shown more pop than Hicks. Calhoun has also been penciled in at DH as well with Giancarlo Stanton on the IL, while Cabrera and Isiah Kiner-Falefa have also split time between the infield and outfield.
Hicks has also performed poorly defensively, and received lots of Bronx cheers from the Yankee faithful.
"It kind of seemed like it wasn't working out for me," Hicks also told the tabloid. "Obviously with the decision they decided to make, maybe somewhere else might be a little bit better."