Carolina Panthers owner Jerry Richardson has been hit with a $2.75 million fine following an NFL investigation that concluded the "allegations of improper workplace conditions" against him were "substantiated," according to a league statement.
The investigation, which began in December after Richardson was accused by former Panthers employees of sexual harassment and making racist comments, was overseen by Mary Jo White, a former federal prosecutor and chairman of the SEC.
Richardson's fine is slightly higher than the $2.5 million levy the NBA hit then–Los Angeles Clippers owner Donald Sterling with in 2014, after Sterling was caught on tape making racist comments. The NBA also banned Sterling for life and forced him to sell the franchise; the NFL's statement said nothing about any kind of ban for Richardson, though Richardson did agree to step away from the Panthers' daily operations and to sell the team soon after the allegations against him first surfaced in a Sports Illustrated story. Last month, the league approved a $2.275 billion sale of the Panthers to hedge fund orc David Tepper. That sale is expected to close in a few weeks.
The NFL's statement avoided making any reference to specific allegations of sexual harassment and racism against Richardson, noting only that "the review identified each of the allegations that has been publicly reported as well as similar matters that have not been the subject of public discussion" before adding that "it did substantiate the claims that have been made, and identified no information that would either discredit the claims made or that would undermine the veracity of the employees who have made those claims."
The statement went on to say White's investigation found that the "improper conduct was limited to" Richardson alone, and that the Panthers did not report any claims to the league office until the allegations were made public in December. One of White's recommendations included a league-wide "specific prohibition of using Non-Disclosure Agreements to limit reporting of potential violations or cooperation in League investigations under the Personal Conduct Policy."
G/O Media may get a commission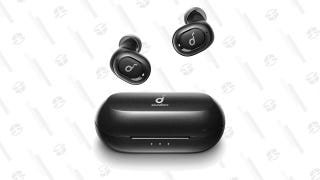 Anker Soundcore Liberty Neo True Wireless Earbuds
The money collected from Richardson's fine will largely "be used to support the work of organizations dedicated to addressing race- and gender-based issues in and outside of the workplace," the league said.