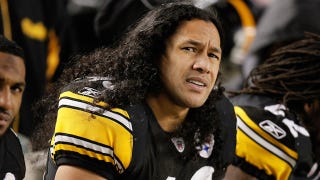 It's been so long since the last asinine NFL fine! But today, Goodell's goons went vigilante on spousal communication and fined Troy Polamalu for calling his wife to let her know he was not bleeding from his ears (yet):
Pittsburgh safety Troy Polamalu, the 2010 NFL Defensive Player of the Year, has been fined $10,000 for talking on a cell phone while in the bench area. Possession of cell phones in the bench area during a game is prohibited beginning 90 minutes before kickoff through the end of the game.

Steelers coach Mike Tomlin said Polamalu was calling his wife to assure her he wasn't seriously injured.
Polamalu had sustained a "very mild" concussion in Sunday's game against the Jaguars, and Tomlin told reporters he used the team doctor's phone for a brief conversation with his wife. It'll cost him $10,000. I wonder what a Tweet would have gone for.