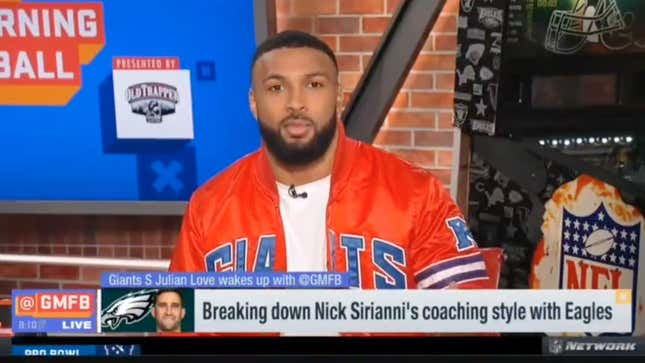 Nick Siranni has come a long way from his cringeworthy, double-talk-filled, introductory press conference in 2021. As the Philadelphia Eagles head coach, he has led the team to consecutive playoff appearances. This season they had the best record in the NFC and are playing in the Super Bowl. An accomplishment so impressive even the Empire State Building paid respect to it, at the behest of New York and the Giants' faithful.

Mahomes or Hurts? Who will win NFL MVP? | Agree to Disagree
Just because one of the city's most notable landmarks can't sustain its distaste for the Eagles, doesn't mean the rest of the tri-state area will simply follow suit. Giants safety Julian Love made an appearance on NFL Network's Good Morning Football and made sure to send some shade the Eagles' way. His target was Sirianni.

Giants safety Julian Love shades the Eagles
"He's in for a free ride right now," Love said on the program. "You guys can coach this team."
Clearly Love thinks highly of the roster that eliminated the Giants from the playoffs two weeks ago, but he is not sold on the coach. Siranni spent his entire first season as coach trying to climb himself out of the hole he dug his first day on the job. The Eagles did make the playoffs with a 9-8 record but got drubbed by the Tampa Bay Buccaneers in the first round.

Love is correct that the Eagles' front office put together an extremely talented roster in the wake of that defeat. They drafted good players and also made a key draft-day trade to acquire A.J. Brown. The Eagles can dominate both lines of scrimmage, they have a great stable of defensive backs, and their offensive-skill position talent can break for a long touchdown at any moment. Also, Jalen Hurts has played like an MVP candidate this season.

Brandon Graham fires back
Longtime Eagle Brandon Graham stuck up for his coach on Thursday. His response to the media, when asked about Love's comments, was, "people always have something to say when they at home."
Love and the Giants are at home because the Eagles were the team blowing out their opposition in the playoffs this season. They beat the Giants 38-7 in the Divisional Round.

Also, as good as they are, the Eagles did more than simply win a lot of games. They started out hot, but then improved after their first loss. Siranni is an offensive-minded coach, and prior to Hurts' late-season injury, they hung 35-plus points on three consecutive opponents Week 12-14.

It takes a while for a new coaching staff to get their team to seamlessly execute a new offense, and yes the learning curve can be sped up with a loaded roster. However, the most important thing that happened in this back-and-forth is someone from New York showing some backbone.
Even the Giants' response to the Empire State Building's post, "I'm just here for the replies," was not nearly strong enough. The most important part of a rivalry is an open dislike for your rival. More important even than support for your own team. That's what keeps a rivalry burning, constant coals of contempt being heaped on the flame.

So maybe Love has a belly full of sour grapes. There is nothing wrong with that. When one of your city's landmarks applauds your rival, damage control must be pointed out. Being a hater at all times is the only way to keep a rivalry strong.