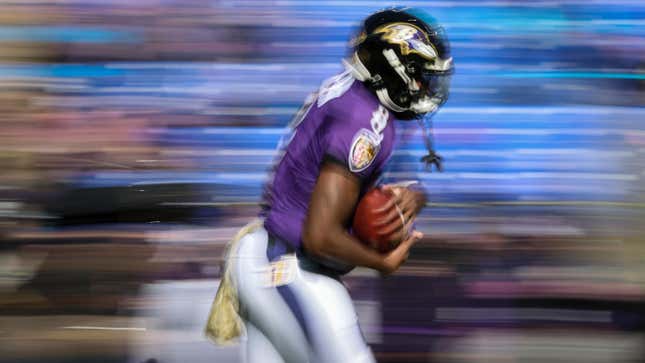 In a time in which more people are realizing the importance of self-care and self-worth, one of the best quarterbacks in the NFL is in a situation with his employer that highlights the struggle that oftentimes comes with achieving self-sufficiency. The Baltimore Ravens don't want to pay Lamar Jackson — the second unanimous MVP in NFL history — his asking price, and it's all because one of the worst franchises in the league forever changed the market for quarterbacks.
Worst Darkness Retreats of the Week
Losers love messing it up for everybody else.

According to a recent report from ESPN, every offer that the Ravens have made to Jackson has been returned with a counteroffer from No. 8 that is fully guaranteed. Check this out:

"Jackson — who has vowed not to speak publicly about his contract since the start of the 2022 regular season — wants a fully guaranteed deal in line with the five-year, $230 million contract the Cleveland Browns gave Deshaun Watson in March. The Ravens, meanwhile, are balking at guaranteeing the full amount, according to team sources. Jackson turned down a five-year, $250 million contract in September that included $133 million guaranteed — far less than Watson's deal, but more than the guaranteed figures awarded to Russell Wilson ($124 million) and Kyler Murray ($103.3 million) last offseason."
How we got here
Before we go further, we should explain how we got here. Back in 2018, Kirk Cousins changed the game when he signed a three-year, $84 million deal. At that time it made him the highest-paid player in football history, along with being the only quarterback to ever get a multi-year, fully-guaranteed deal.
Cousins is most notably known for being a meme.
And then came something nobody saw coming. In March of 2022, the Cleveland Browns decided that they were going to give a guy who sat out a year of football and who had over 20-plus civil suits against him due to allegations of sexual misconduct and sexual assault — Deshaun Watson (who has maintained his innocence) — a five-year, $230 million guaranteed contract.

Watson used to be one of the best quarterbacks in the league. Well, that was before all the "off-the-field stuff."
Now, do you see why one of the most electrifying players in NFL history who was once the league's passing touchdown leader (2019), and who is one of only four Black quarterbacks to ever win MVP, wants a fully-guaranteed deal that's better than Watson's?

If sports is supposed to be a meritocracy, then a lesser player shouldn't be making more than a better one.

"Just because the Browns were desperate doesn't mean that the Ravens are," a high-ranking NFL executive said in ESPN's report. "They are a stable franchise. They aren't about to jump at something just because Cleveland did it."
When the Ravens took Jackson with the 32nd overall pick of the 2018 NFL Draft, they committed to him by changing their entire offense and philosophy to fit his skillset — and it worked. Jackson is 46-19 during his tenure in Baltimore including the regular season and playoffs.

During the 2022 season, a new record was set as 64 different quarterbacks started throughout the year, as it's a testament to how important the position is, and how valuable franchise players are at that spot.

Baltimore has one of them in Lamar Jackson. And despite the games he's missed due to injury, the smart ones understand his worth. The NFL is a league of the haves and have-nots, and the teams with franchise quarterbacks tend to have more success than the ones that don't. But, for some reason, the front office in Baltimore is playing a dangerous game of chicken with one of the league's best players all because some idiots in Cleveland gave one of the NFL's most toxic players a better deal.

Omar Little once said, "you come at the king, you best not miss." And if the Ravens don't figure this thing out, it'll be because their aim was off.