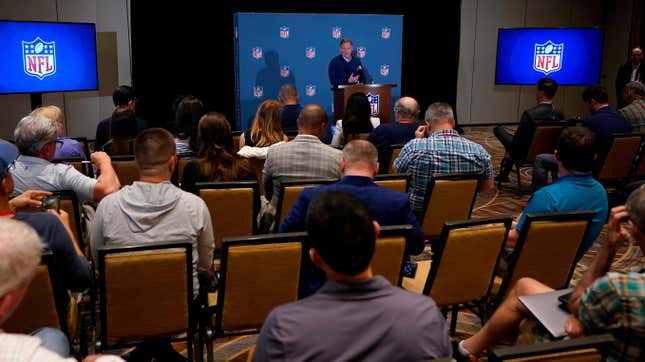 Football is America's sport because it's the game that so closely mirrors how our society works. The players are the workforce/employees. The coaches are middle management. And the owners are the politicians and lawmakers. And when you think of it that way, it's evident where the lack of diversity within the NFL takes its cue. This past week in Phoenix was an example of that. The annual owners' meetings took place, and just like corporate America and sports media — whiteness was again the guest of honor.
Mahomes or Hurts? Who will win NFL MVP? | Agree to Disagree
That "seat at the table" that people always talk about, is located in a room. And that room is in a building. And unless you've been in the buildings where the NFL, or Major League Baseball, hold their annual meetings, you don't understand just how one-sided things are. But due to social media, pictures of the happenings inside that building were posted to the Internet giving the world a chance to see just how un-melanated the people inside that building are.

Take a look at the caption and photo below and notice the lack of people of color.
And then there's this one. A throng of reporters — mostly white middle-aged men — hovering over a white coach who works in a league that's predominately Black, getting asked questions by people who are overwhelmingly male, who don't look like the people that play or watch the game.
If you need more examples, just click here, here, here, here, and here.

Looks more like a NASCAR event than the league that has "End Racism" etched into their end zones, huh? Wait, never mind. This league still has a team called "The Chiefs," as if it's cool to turn a race of people into a mascot.

It's not just the NFL
And it's not as if photos of media from a WNBA, NBA, or college basketball event would be any different. The overwhelming majority of the people who cover sports are white, as the entire industry has an issue. According to the 2021 Sports Media Racial and Gender Report Card that The Institute for Diversity and Ethics in Sports (TIDES) put together for the Associated Press Sports Editors, a large segment of the industry got an F for gender hiring, a B+ for racial hiring, and a C as an overall grade.
Check out some data from the latest study:
79.2 percent of the sports editors were white.
77.1 percent of the columnists were white.
80.1 percent of upper management were white.
83.3 percent of the sports editors were men.
75.8 percent of the assistant sports editors were men.
85.6 percent of the reporters were men.
63.7 percent of upper management were men.
At the beginning of the week, veteran NFL reporter Jim Trotter announced that Friday would be his last day at NFL Media after his contract went conveniently not renewed after publicly holding NFL Commissioner Roger Goodell accountable at back-to-back Super Bowl press conferences for his, and the league's, continued lack of interest in addressing diversity within the league and the newsroom at the company.
"And yet a year later, nothing has changed," he added in February. "James Baldwin once said, 'I can't believe what you say because I see what you do."

During a week in which Jim Trotter more than likely lost his job because he repeatedly asked a powerful white man why other powerful white men have such an issue with hiring and empowering Black employees, white members of the sports media posted pictures from the NFL owners' meeting showing just how white the NFL and the sports media industry truly is. It painted a picture so clearly that even the folks that choose not to see color had no choice but to notice how white everything is.