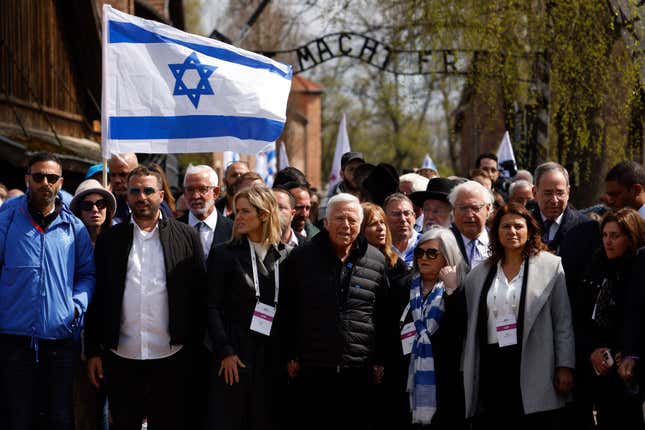 More of this, please. Someone in power using their platform for good and to benefit others. New England Patriots owner Robert Kraft led a march to honor victims and survivors of the Holocaust in Poland on Tuesday. In the Kraft-led group that participated in the 35th International March of the Living was rapper Meek Mill, who was released from prison in 2018 with Kraft being one of several public figures advocating for his sentence on probation violations for past gun and drug convictions to be commuted. All of Meek Mill's five studio albums have reached at least No. 3 on the U.S. Billboard charts.
Who should host the NFL's new Black Friday game? | Agree to Disagree
The three-kilometer march is an annual remembrance that takes place around the largest Nazi concentration camp during World War II, Auschwitz-Birkenau. More than one million people died from 1940-45 at the camp. Normalizing honoring those who perished and survived the Holocaust at large and in sports is critical, as Monday night began Yom HaShoah, Israel's Holocaust remembrance day.

Kraft's delegation was part of the Foundation to Combat Antisemitism, an organization started by the Patriots' owner in 2019. In late March, the Anti-Defamation League released a report that antisemitic incidents rose in the United States by 36 percent in 2022, with 3,697 such events taking place. The report stated it was the third time in five years the total of antisemitic events was at an all-time high since the ADL started tracking that information in 1979. Kudos to Kraft for spending his time involved in events that can buck that awful trend.