News And Notes From Week 7 Of The NFL
• An impressive win for the Chiefs yesterday, particularly after an active week of partying with women and their sex toys. Actually, that was last week, at the team hotel in Pittsburgh, according to Jason Whitlock's column yesterday, which might have led to the blowout in Pittsburgh. We can understand the mindset of the Chiefs players. Yes, there's a game tomorrow ... but jeez, can you believe what hotel we're staying at?
• Joey Harrington threw for 414 yards yesterday, with two touchdowns and ... three picks. It is good to see him paying tribute to Brett Favre, and even handing The Gunslinger Mentality a farewell victory. When is it OK to start questioning Nick Saban? Pretty soon, right?
• Odds on Joe Gibbs coming back next year? We mean, Spurrier could have done this, right?
• Ben Roethlisberger appears to be reasonably OK after being knocked out yesterday, but it's getting to the point that we would feel uncomforable walking down the street with the guy. We're waiting for him to be diagnosed with rickets.
• The Buzzsaw lost to the Raiders yesterday. The Buzzsaw lost to the Raiders yesterday.
G/O Media may get a commission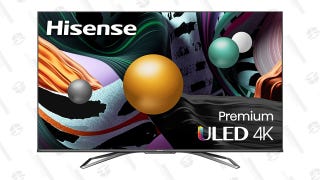 Save $350
Hisense ULED 65" Android 4K HDR Smart TV
• The Mighty MJD writes his Smorgasbord column, somehow fitting it in while doing an outstanding job around here over the weekend. The Smorgasbord never fails to crack us up, and so we're just going to feature our favorite quote from it every Monday. Here's this week's:
"Rex Grossman, meanwhile, is visiting [ESPN GameDay] studio today. Jaws is making some point about how the league has to protect quarterbacks, and he has Grossman stand there, posed in a throwing motion, while Jaws touches him around the abdomen and chest. Grossman keeps his eyes focused on something in the distance, completely unwilling to make eye contact with Jaws, whose hand has been on Grossman for over thirty seconds now. When they called him and asked him to do the show, I bet they didn't tell Rex that Ron Jaworski would be fondling his nipples for an extended period of time."