Jake Delhomme's uncanny streak of failure continues. Brett Favre wins by making himself scarce. Plus more action from week one of tackle football...
• Vikings 34, Browns 20: Brett Favre should have a successful season handing the ball off to Adrian Peterson, who scored three times today, amassing 180 yards on 25 carries. #4 also showed he can still pass a bit—to the tune of 110 yards today— when defenses invariably stuff the box against AP.
• Eagles 38, Panthers 10: Jake Delhomme proves his playoff meltdown was no fluke. He throws four picks, giving him nine in his past two games. Kevin Kolb replaces McNabb, who left the game with a rib injury. Meanwhile, Philly's defense holds the Panthers' two-headed rushing attack to 82 yards, while sacking the hapless Delhomme four times.
• Saints 45, Lions 27: This one's over by halftime after Drew Brees throws four TDs (two of them to Jeremy Shockey), ending with six when the dust settles. Stafford doesn't immediately save the franchise (16/37, 205, 3INTs); expect the Culpepper calls to follow.
• Broncos 12, Bengals 7: Denver wins when a tipped Kyle Orton pass inadvertently winds up in the hands of Brandon Stokley, who scores with 11 seconds left...It's going to be a brutal season for Cincinnati—if the Bengals sputter this badly against last year's worst defense, expect vomit-inducing games against divisional opponents Pittsburgh and Baltimore.
G/O Media may get a commission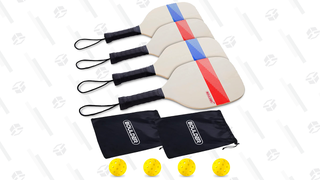 It's Pickleball
Pickleball Sets
• Ravens 38, Chiefs 27: KC keeps this one close thanks to a blocked punt returned for a TD, but Flacco puts the Croyle-led Chiefs to bed with a 31-yard TD pass to Mark Clayton.
• Jets 24, Texans 7: The Jets lay down the formula for 2009 success: dominant defense+hard-nosed running+Sanchez not screwing up as much as Brett Favre did.
The rookie makes good, safe check down reads on 3rd down, throwing only one pick.
• Falcons 19, Dolphins 7. Miami fails to generate much offense (despite a brief cameo by Pat White) as Matt Ryan goes 22-36 for 229 yards and 2 TDs, one of them to new TE Tony Gonzalez.
• Colts 14, Jags 12: Peyton Manning to Reggie Wayne (10 rec, 162, TD) doesn't seem fair, especially against horrid secondaries like Jacksonville's.
• Cowboys 34, Bucs 21: The scrappy Bucs hang around for a while, but Dallas' loaded offense prevails. Patrick Crayton and Roy Williams step up big in TO's abscense.