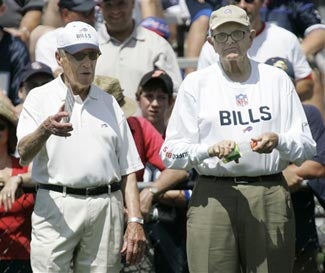 Believe it or not, folks, the NFL season is much closer than you can possibly imagine. So close, in fact, that, if we're going to fit in every NFL team preview by the start of the season, we have to go this early. So there you have it.
Last year, we asked some of our favorite writers to opine why Their Favorite Team Was Better Than Yours. Ultimately, we found this constrictive, and it also might have killed James Frey. So this time, we've just asked them to just run free, talk about their team, their experience as a fan, their hopes, their dreams, their desires for oral sex. All our teams are now assigned; if you sent us an email and we didn't get back to you, we're sorry, and we accept your scorn. But today: The Buffalo Bills.
Your author is Jack Kukoda, a staff writer for the Onion News Network and an occasional contributor to American Hockey Fan. His words are after the jump.
——————————————-

"I'm sorry." You'd be surprised how often you hear those words when you tell people you're a Bills fan. And not that sarcastic it's-all-in-good-fun "sorry" fans of rival teams say to each other. I mean a legitimate I'm-genuinely-concerned-for your-mental-health-and-well-being kind of sorry. The same reaction you get when someone asks how your family is doing, and you tell them your mom's in the hospital. "Oh geez, I didn't know. I'm ... sorry." "No, it's okay. Don't apologize. You couldn't have known."
And when you're the object of such pity, there are two routes you can
take: Accept it graciously like the kid who lets his uncle take him to
the father-son picnic because his dad's an unreliable alcoholic, OR
intensify your allegiance beyond any rational degree until your fandom borders on unhinged belligerent optimism. I, like most Bills fans, choose the latter.
With that in mind, let me first say to Jeff Mason — the erstwhile Bills
fan who jumped ship to his backup Baltimore Ravens during their
Super Bowl run (and then bragged about it!) — you will not be missed. Being a Bills fan is not for the faint of heart. So good riddance. Have fun in the 9th ring of hell, you fucking Judas. Say hi to Briere and Drury for me while you're down there.
As for credentials: I was born and raised in Buffalo; lined up to buy a new AFC Champions T-Shirt at Trench every year in the early 90's, then lost my faith in God a little more after each Super Bowl; and remember exactly where I was when they debuted the "Shout Song." Now, down to business.
How will the Bills do this season? Awesome. They will do awesome. Ka-blam, you're welcome. Need proof? Here you go.
Our general manager and owner, who last year pledged to be more hands on, are a combined 169 years old. That's the kind of experience you're not going to find anywhere else. How many owners were members of the original AFL ownership AND played a major role in the Teapot Dome scandal? Just one: Ralph C. Wilson, Jr. And while others see Marv Levy as the coach who lost four straight Super Bowls, he is to Buffalonians what Oprah is to none-too bright women: a genius of unfathomable depths. If anyone can lead the Bills back to glory, it's him.
The Defense: The Bills lost Takeo Spikes, my former favorite Bill and owner of the largest neck in the NFL, and London Fletcher this offseason. But Paul Posluszny should fill in nicely. And as a Pole playing in Buffalo, he could probably declare himself mayor for life and nobody would have a problem with it. For the first time in what seems like a decade, the Bills didn't draft an Ohio State defensive back in the first round, and with Nate "Lockdown Corner Except In Games That Matter" Clements gone, Terrence McGee is going to have to step up. Look for second-year safety Donte Whitner to become a leader on the defense.
The Offense: Whoo boy, that's the wild card. Can J.P. Losman blossom into a decent quarterback capable of moving the ball downfield AND putting it in the end zone? Will the Bills offensive line even allow him to do so? Will Marshawn Lynch become the greatest Bills running back since Thurman Thomas? Yes, yes and yes. Why? Because they're the Bills, goddammit. And the fragile psyche of an entire city is counting on it.
Special Teams: Well, the Bills locked up Pro Bowl punter Brian Moorman through 2012 for 10 million dollars, so that's something. Let that be a lesson to all the dads trying to turn their son into the next Tiger Woods. Don't waste your money on expensive clubs and greens fees. Make your kid a punter. All he needs is a ball, a foot, and an overbearing father wiling to force him to kick balls into 40 degree winds 12 hours a day. He'll thank you for it later. And look for Roscoe Parrish to run back at least two punts for touchdowns this year.
My prediction for the Bills record? No idea. They might go 12-4 or 5-11. I have no clue. If the Bills win the Super Bowl, I will cry, celebrate, then head home to help rebuild after the riots that will almost certainly engulf the city. If they miss the playoffs again, well, I'll just get ready for next season. But I will not ask for, nor will I accept your pity. I'm dragging my perpetual disappointment of a father off that couch, and goddamnit, we're gonna win that fucking potato sack race together.
Go Bills.