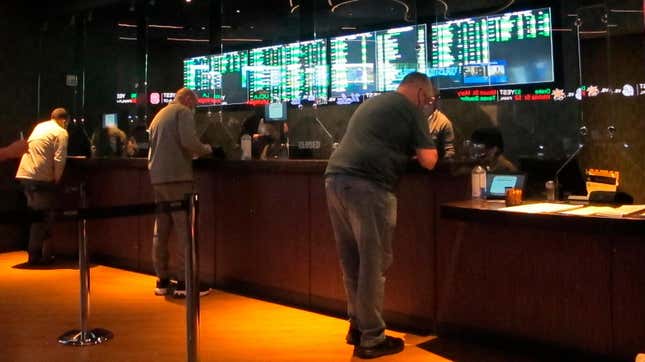 You know what's more impressive than surpassing your season expectations? How about surpassing them with one fewer game than the rest of the league? Prior to the current NFL season, most sportsbooks listed the Bengals projected win total at 9.5, while the Bills were listed at 11.5. They ended the season with 12 and 13 wins respectively. Bettors who bet the over on either team won. Ask any first grader and they could tell you that 12 is greater than 10 — they'd probably be confused at the idea of decimals — and 13 is greater than 12. Unfortunately, sportsbooks can't seem to grasp that idea, because several casinos and sportsbooks around the country aren't paying the bettors that took the over. Why? Because neither the Bills nor the Bengals played a full 17-game schedule.
5 Richest active NFL players | Money Mondays
This is the dumbest thing I've ever heard.

In case you've been living under a rock or having taken a vow against social media for the last two weeks, Week 17's Monday Night Football game between the Bills and Bengals at Paycor Stadium was canceled after Buffalo safety Damar Hamlin collapsed on the field suffering cardiac arrest. The NFL never rescheduled that contest, meaning this was the first season since 1935 where not all teams played the same number of games. Still, as I said earlier, there is no scenario where either team failed to reach their preseason win-loss projection, so there is no reason why any sportsbook should refuse to pay their bettors for betting correctly, right?! How foolish of me to assume casinos would act in good faith, right?
In this TikTok video, a man explains that the Red Rock Casino in Las Vegas is apparently not honoring the bet his friend made for the Bengals to win over 9.5 games. He is rightfully furious. Now, the betting elitists reading this article are probably already warming up their fingers to tweet at me claiming it has to be a voided bet. No, it's not. If it truly was a policy all casinos and sportsbooks had to abide by, then why are some paying out winners?
What some casinos and sportsbooks are doing
According to a spokesperson, online sportsbook PointsBet said that the win totals for the Bills and Bengals will be graded as they stand. Winners will be paid, but losers will not. WynnBET took the decision a step further, offering winnings to every person who bet the Bengals' and/or Bills' over, while giving refunds to whoever took the under for either team. BetMGM Vice President of Trading Jason Scott told The Las Vegas Review-Journal that they would "pay anyone that won their bet and refund those that lost," implying that they will pay out Bills/Bengals over bettors.

Now, it is true that some sportsbooks have a policy that prevents them from handing out winnings to either party — winners or losers — in this event. Caesars Sportsbook literally has a prerequisite attached to certain NFL future bets that reads "Must Play 17 Games For Action." Here's an example I found on Sports Handle, which includes a screenshot.
It is expressly stated on any season-long bet. The notation is clear, concise, and available for the bettor's eyes at all times. If a sportsbook or casino clearly stated with those bets before they were made that 17 games must be played in order to earn/lose money, then sure, I understand the decision. It's still an incredibly stupid decision seeing as how there was literally no way for the Bengals or Bills to drop their win total below their preseason projections. However, I can roll my eyes and say "fine" while asking for a refund if those rules were clearly stated. That's not the case for every sportsbook though.
As for another
Red Rock Resort sportsbook director Chuck Esposito has claimed that they have rules preventing them from taking action on over bettors in this circumstance. He even stated, "We make [those rules] publicly available to guests." Interesting, because there appears to be no such indication on the ticket in the video above. There also doesn't appear to be an indication on the resort's "Race and Sports Betting" website page. Even if I go to the "Race & Sports House Rules" page attached to Station Casinos, I'm fed into a loop that brings me back to the same page. The rules are never actually explained to me.

Maybe I'm just stupid, but this policy that Esposito claims has his hands tied in this situation is difficult to find, and very clearly not "publicly available." There should be a very clear and easy way to gander at the sportsbook's house rules, and there isn't.

What's funny is that seemingly every sportsbook is still paying out division-winner prop bets. Even though the Cincinnati Bengals and Buffalo Bills didn't play full seasons, these sportsbooks which can't pay bets placed on either team's win total, are still giving division winner bettors their money, because the NFL officially declared a winner. You know what's easier than declaring a winner though? Counting.

It blows my mind that some sportsbooks would be unwilling to pay bettors their due after winning a bet. I'm not saying to give losers their money back too. There was no way the Bengals or Bills could have finished below their preseason totals, so there's no point in giving losers their money back, but at least give the winners what they're owed. If the sportsbook didn't make it clear that 17 games were required for action, there is no excuse. The bettor in the video above is now out two grand because of Red Rock's decision. That sounds like a lawyer situation to me.