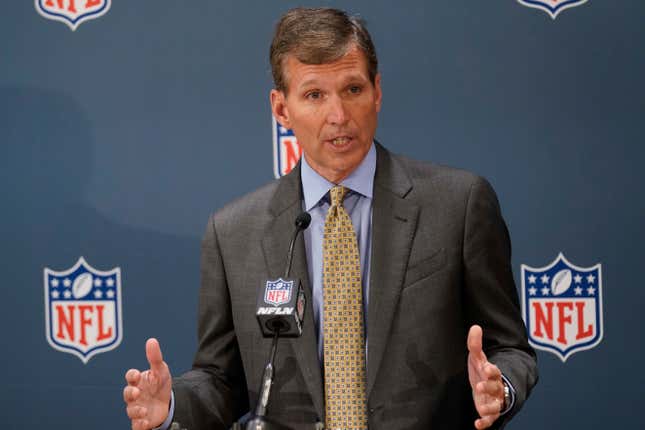 Doing right by diversity isn't in the NFL's DNA. But their venture with the league's Physicians Society (NFLPS) and the Professional Football Athletic Trainers Society (PFATS) is a great diagnosis.
The season might already be over for these two
The participants in the second year of the NFL Diversity in Sports Medicine Pipeline Initiatives have been announced, as 31 students will have their clinical rotations begin at training camp in the program that's aimed at leading more diverse medical students into pursuing careers in sports medicine.
Fourteen of this year's students are from HBCUs, which included Howard University College of Medicine, Meharry Medical College, and Morehouse School of Medicine. There are also two students from Charles R. Drew University, which is recognized as a Historically Black Graduate Institution. Last year's program only featured 14 students who worked with eight teams. In year two, the program is league-wide.
"The NFL and our club medical staffs are thrilled to welcome these impressive medical students from around the country to the league this season," said NFL Chief Medical Officer Dr. Allen Sills in a statement. "The league-wide expansion of the NFL Diversity in Sports Medicine Pipeline Initiative this season demonstrates strong interest in sports medicine from diverse and under-represented medical students and is indicative of our clubs' commitment to diversity in all facets of the game."
The program is set up so that students will get a chance to work with orthopedic team physicians, primary care team physicians, and athletic trainers. It's also taking place at a time in which the NFL needs to better its image, especially coming off a season in which Miami Dolphins starting quarterback Tua Tagovailoa became a walking example of how bad this league has been when it comes to caring for players — specifically in the case of concussions.
Just last year, the families of former Black players won a decade-long fight with the league as the NFL had to pay millions for not properly compensating them for the concussions they sustained while playing. A racist practice called "race-norming" — which assumed that Black players and white players did not have the same intellect, due to a racist belief that Black people have lower cognitive levels than white people — was used as a disqualifier.
"In 2022, how can you possibly think that another human being comes out of the womb with less cognitive ability?" Ken Jenkins, a former Washington player who petitioned the federal judge overseeing the settlement, told the Associated Press at the time. "It's just impossible to believe that that can be true," Jenkins declared. "It's unspeakable."
The league is also being currently investigated by New York and California Attorneys General for hostile workplace discrimination for racial and sexual harassment and age bias, as Brian Flores' class-action suit against the league for its alleged racist hiring against Black coaches is still going on. And just a few months ago, NFL Media got rid of veteran NFL reporter Jim Trotter for constantly asking NFL Commissioner Roger Goodell about the league's lack of diversity from the sidelines to the front office, and to the newsroom.
"We are incredibly excited to participate in the second year of such an impactful and important diversity program," said NFLPS President and San Francisco 49ers head team physician Timothy McAdams, MD in a statement. "Mentorship is a critical component of recruiting students into our field, so we're thrilled to immerse more talented medical students with diverse backgrounds into the NFL clubs' medical communities. We're all looking forward to watching this program continue to grow and impact more medical students in years to come."
This initiative is one of the first positive, and actionable, things the NFL has done in the name of diversity in a long time. And if the league ever wants to change its reputation, it can't be the last.