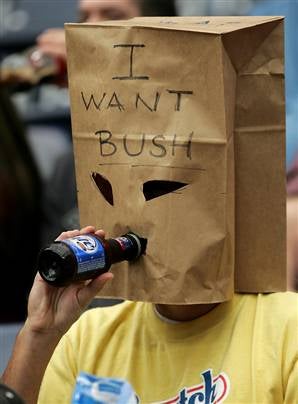 Just in time for the final week of the NFL regular season, here's a heartwarming tale of a dad, his 13-year-old son and a trip to a Redskins game. Meet Dick Meyer of the Washington Post, who contends that the level of public aggression, drunkenness and lewdness in the stands these days is at an all-time high. In fact, after his son was flashed by high school cheerleaders and doused with several brands of beer at Redskins Stadium, he compares NFL fan behavior to the decline of ancient Rome.
When the Redskins scored their first touchdown, four young women — I'm guessing they were in high school — turned around and did a little stripper's dance that made my son blush as I cringed. Even putting aside their ages, it was too cold to bare flesh. Within 10 minutes of kickoff, I knew I had made a terrible mistake taking my son to the game.
So far it doesn't sound too bad. Meyer disagrees.
I suppose depravity is a strong word. But what better describes drunken adult men, egged on by other grown beer-swillers, belly-shouting the most spectacular obscenities imaginable as they stand next to a 13-year-old boy? Every play was a competition to produce a more vile insult or a different suggestion about which Bear body part might be stuffed up which orifice.
I don't see many games outside of San Francisco, where the only real controversy occurs when the guy seated in front of you refuses to remove his top hat. Apparently things get a little rowdier when you move east; beginning in, say, Oakland? Are making the stands more family-friendly something for Roger Goodell's to-do list? Or are NFL fans behaving exactly the way nature intended?
No Game For A Family [Washington Post, via Fark]