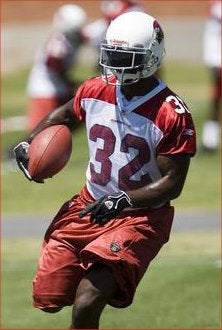 • The Bears are taking it to Green Bay in the first half, behind three Robbie Gould field goals, and one 49-yard TD pass from Rex Grossman to Bernard Berrian. Brett Favre, in the biggest upset of the week, has yet to throw an interception. Of course, he's only thrown 2 passes, and with a few minutes left in the half, the Bears have only run 14 plays. Chicago's run 36. Rex Grossman's 12-of-16 for 184 yards, 1 TD, and 1 interception. 16-0 Bears, close to the half.
• This is what you get, Jacksonville, when you hire Mike Tice to design your offense. The Jags can get absolutely nothing going against the Cowboys, and with the exception of a good early drive, the Cowboys don't have a lot going either. It's 10-3 Dallas, and Terrell Owens has 3 catches for 33 yards, if you were wondering.
• There's something strange happening to the Cardinals and the 49ers... it's called offense. Kurt Warner is throwing the ball all over the field, Alex Smith has been decent, and there are already 35 points in the game, before halftime. In fact, the only person in the game who can't get anything done offensively is Edgerrin James. He's run the ball 11 times for 21 yards, though he does have a touchdown.