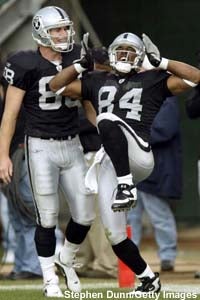 • San Diego 14, St. Louis 7. Shawne Merriman has two sacks for the Chargers, and has been awfully jubilant about them for a guy with such a large and dark cloud hanging over his head. It would take an even bigger set of balls, though, if he were to mimic jabbing a syringe into his ass after he got a sack. LaDainian Tomlinson has 84 yards and two touchdowns at the half.
• Broncos 14, Colts 6. Peyton Manning is 14-of-17 for 132 yards, and yet, the Colts are touchdown-less. Jake Plummer has one touchdown running, and one touchdown passing, and has not completely screwed up anything. The Colts have generally performed better in second halves this year, but... I don't think they've seen a defense like this one.
• Raiders 10, Steelers 6. I did not see this coming. I just assumed that the Raiders got their win last week, and that would be enough... I figured they'd be ready to pack up shop and call it a season. But they've been infused with pride, and... well, competency. It's not like they're dominating this game or something; their touchdown came on a deflected interception. But they're there, they're competing, they look solid, the Steelers look wobbly, and... the game is there for them. I'm a little taken aback.