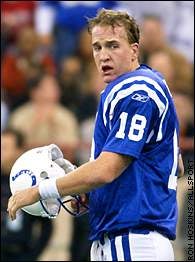 • Redskins 14, Colts 13. Not only did the people of Indianapolis have to deal with the fright of seeing Peyton Manning's body's body get bent in the opposite direction that Kenny Chesney usually bends it, but the Colts are losing to the underdog Redskins. Manning's fine, I guess it's not that big of a story... it's just so rare that he's hurt, or even takes a big hit. I'm impressed with the Redskins... it's a must-win game against an excellent team, they're big underdogs, and they're responding. Color me surprised.
• Oakland 17, Arizona 3. Look at Art Shell, throwing his name into the Coach of the Year race. Even after fumbling on their first possession, the Raiders came back and unleashed a fury of Raider excellence onto the hapless Cardinals. Even Randy Moss is trying, hauling in a 32-yard TD catch from Andrew Walters. At least he was trying... he also has three pretty blatant drops, one of them in the endzone.
• Vikings 10, Seahawks 10. The Vikings signed Steve Hutchingon away from Seattle, Seattle wanted to keep him... I think the only really fair thing to do in a situation like that is to cut Steve Hutchinson in half. You could sew half of Hutchinson together with half of Anthony Herrera, and the Vikings would have a decent lineman, and the Seahawks could do the same the healthy portion of Pork Chop Womack. Then you take the other halfs of Herrera and Womack, sew them toether, and trade him to the Cardinals for a sixth rounder. Come on, science, make it happen.