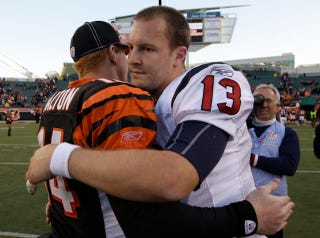 The best weekend of the year is upon us. Two full days of real, non-ridiculous-sponsor-named-bowl game football. Here's your spot to revel in the wonder of it all.
Cincinnati at Houston (NBC): How bad does Jeff Garcia feel about himself at this point, finding himself behind Jake Delhomme on the depth chart? But who knows, the way Houston seems to be averaging 15 injuries a game, it might have been a savvy move on his part.
The Bengals hope to avenge an 20-19 Houston victory earlier this year in Cincinnati, which was significant for two reasons: 1.) The Houston Texans were able to clinch their first franchise playoff birth following the game and, 2.) Houston has not won since. Both teams will be looking for their rookie quarterbacks to continue the trend of not screwing anything up. Cincinnati's prize? A trip to Foxboro and an almost certain loss to the Patriots. If the Texans win they'll get to travel to Baltimore for what I happen to think would be an excellent game. As long as the Fort McHenry Tunnel doesn't explode as the team bus enters forcing the Texans to start Warren Moon.