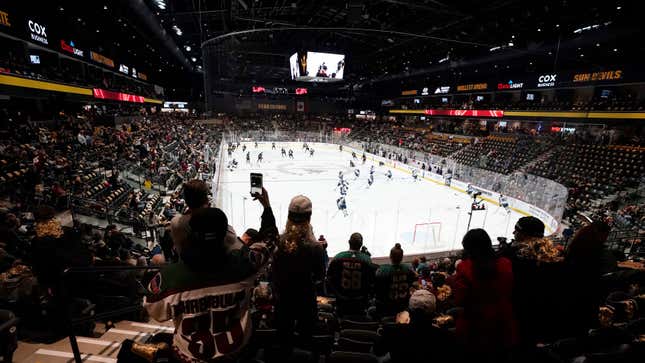 It was a bad idea from the start. When Gary Bettman enacted his Great Southern Strategy for the NHL, the original Winnipeg Jets, and the Phoenix area never quite fit into it. Phoenix wasn't a captive market like Tampa or Nashville were, with the hockey teams being the only games in town during the winter. Dallas had a building that could accommodate hockey to start and an interested partner in building a new spot in the Mavs. Anaheim had a building from the get-go.
Top Philly sports moments of all-time | David Boreanaz
Phoenix had none of that. The original America West Arena, now whatever Investment Footprint Center thing it is currently, was never built with hockey in mind. Which meant a third of the arena had a good portion of the ice cut off from view. It capped what the Coyotes could do as far as attendance, because who wants to go to a game where they can't see one-third of the ice? The Islanders failed to heed this lesson years later. But the Yotes and what their fanbase could be was immediately handicapped.
They also did not have a partner in finding and building a new arena. The Suns already had theirs, which the Coyotes were essentially squatting in for a few years. Which meant they were on their own, and had to take basically whatever they could get. Which meant Glendale, certainly a fair piece from the city but also negotiable for a product that was worth traveling to. The Yotes rarely provided that through a series of charlatan and dipshit owners that Bettman kept landing on. And that's the real culprit here. When the Thrashers wanted out of Atlanta, Bettman's effort to keep them in the Dirty South was basically pointing northwest and waving his other arm like a third base coach out of town. And yet he couldn't admit defeat in the desert.
Which would have been fine if he and the league didn't keep leaping to whatever clown or fraud showed up with no more qualification than carrying a suitcase with a "$$$" painted on it. It was never a requirement that any new owner be able to build a new arena on their own where people wanted to go.
It was just assumed that when it came time, the Phoenix/Scottsdale area would simply bend over and take it for a team that had long ago become an afterthought when they weren't a joke. Why was anyone so sure that residents would ever be OK spending tax dollars for this kind of project? The NHL and the Coyotes had spent decades providing nothing to the area. And they wanted to keep getting? What logical person would vote to spend a dime on a new arena for a team that had already burned through two of them in less than 30 years and had no tangible hold on the city? Why did the place need a third arena, was assuredly a thought a lot of voters had.
There are certainly thousands of Coyotes fans who are disappointed and know they're fucked now and will soon lose their team to Houston or Kansas City or Salt Lake City or Sacramento, all places that have a building to move into tomorrow. It's terrible for them, but Bettman is the one who did them dirty by constantly foisting a quite impressive list of giblets to run the team who simply didn't know how or couldn't, all so he could claim victory. What did Bettman win after all these years?
There was a way Phoenix could have worked, because all the other "southern" markets did. But this was always rushed and stupid and only became more calamitously so with every passing season. This latest group of fuckheads didn't even try all that hard to get this arena built, being wildly outspent in their promotion and outreach efforts some 8-to-1 by those who wanted the no vote that they eventually got. This was after they couldn't pay their employees or vendors or had a list of claims of a hellish workplace. This was the star Bettman hooked his wagon to?
It sucks for those who will lose the team. But this was a franchise that the league and Bettman never took seriously, no matter what they said. If they did, it wouldn't have had this list of fuckups that were in charge at one time or another. It's over now, and Bettman would be wise to get these latest assholes out of the owners' box and to someone in whatever city is next who actually knows what they're doing.
Steve Kerr blames Warriors' woes on Draymond Green punch
While most of the story in the NBA is either about the conference finals beginning or Ja Morant's fuzzy definition of "accountability," there was another major figure in the league doing his best Doc Rivers, and shirking his role in a major fuck up.
Steve Kerr pointed to Draymond Green coldcocking Jordan Poole in training camp as something the Warriors could never get around and how it cracked the foundation of the team. But nowhere does Kerr say, "It was my fault." Because it was. It was Kerr who didn't have Green miss a regular season game, a decision that created a pretty big schism between the old guard and the new. Which is a big reason Golden State spent much of the year looking like a group of employees going through yet another office training.
In fact, Kerr goes on to say that if Green does return, it's on him to build trust and chemistry with the roster's younger players. Green certainly would have road to make up, but Kerr seemingly siding with his very punchy charge over those who bore the brunt of that also has to be amended. Kerr will have to admit to that as a first step on that road.
---
Follow Sam on Twitter @Felsgate as he petitions to have the 2012 first round thrown out of the records too.