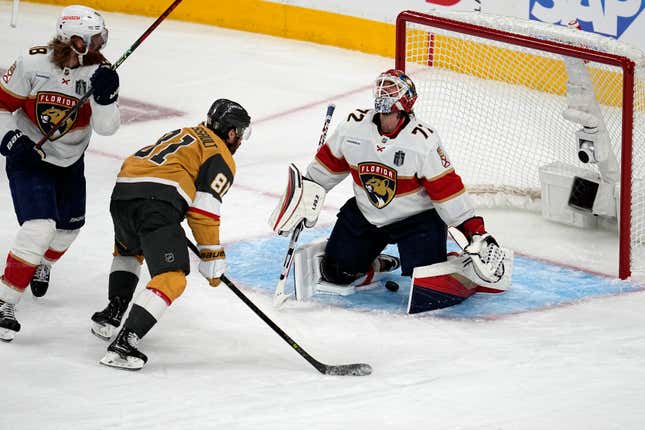 It's not that the Florida Panthers haven't faced adversity in this playoff run. They were down 3-1 to the Bruins. But then, nothing was expected of them, so it's not like they had much to lose. They certainly do now, so close to the parade, and they certainly appeared intent on losing it all in Game 2 of the Stanley Cup Final, getting pumped 7-2 by the Vegas Golden Knights.
Can the Florida Panthers make a comeback? | Agree to Disagree
And it was in a fashion that we'd all expected to come a month or two before this, if not the whole season. Better late than never. While Paul Maurice has gotten plenty of kudos from the hockey world for a defensive revolution that isn't actually happening, his history suggested he would face a problem like the Knights and a 1-0 deficit in the series with the unimaginative, well-traveled hockey coach stratagem of "MOAR HITZ" and "MOAR PENALTEEZ." And boy did they!
The Panthers came out in Game 2 determined to assert their physicality, which is like the one thing the Knights aren't going to respond to. Which led to them chasing the Knights all over the ice and being so far out of position across the ice that one wondered if they were playing with enough players.
Take the Knights' second goal. This highlight doesn't start quite at the beginning, but the Panthers were in good position. Sasha Barkov has Alec Martinez pinned in his own corner for a puck battle. Anthony Duclair has the lane up the boards blocked off, and Anton Lundell is cutting off the path behind the net. It's one-on-one in the corner with the Panthers in good position whatever way the puck bounces. Duclair goes in for a completely needless hit on Martinez, paying no attention to the puck, provides a lane for a Vegas breakout, and you can follow the rest from there.
This was the story all night. Brandon Montour took a senseless penalty when Jonathan Marchessault was already pinned against the boards and not a threat and Montour decided to brain him from behind. The Panthers consistently running around left their defense either unwilling or unable to engage at their own blue line, and the Knights consistently strolled into the Panthers' zone like they were Norm headed to Cheers. Havoc ensued.
Somehow, Maurice and the Panthers didn't pick up that the Knights have been picking apart their over-pursuit of the puck either as part of their coverage or just in their bloodlust to get a Knight head on a pike and just throwing the puck through that to the weakside for what have become automatic goals.
It's automatic
Here you can see the Panthers surrender their blue line like a cartoon Frenchmen.
Sergei Bobrovsky plummets back to Earth
Somehow the Panthers haven't caught on to any of this. And they still might have been OK if Sergei Bobrovsky hadn't plummeted back to Earth with a dinosaur-killing thud. He gave up three goals on three shots on either side of the first intermission. He had a save percentage of .692 in Game 2, which pairs nicely with the .879 from Game 1. While this will be treated as a major turn of events, Bobrovsky doesn't have a track record of playoff heroism, whatever his paycheck might suggest. He has the one series in 2019 against the Lightning, and has more often been awful than good in the postseason (career .908). He's been brilliant this spring, but this was never too far under the surface, and he'd better bury it again if the Cats have a prayer in this series.
None of that stopped the Panthers from engaging in the biggest bullshit of hockey bullshit, message-sending when you've already got your ass kicked. They racked up 84 minutes in penalties, with Matthew Tkachuk racking up 22 himself, so far just about his only contribution to the series.
All season we've waited for Bobrovsky and Maurice to return to their natural state. Water always seeks its own level, people.
CBS Miami reporter has to keep fans out of her stand-up shot
Hey, at least someone from South Florida used their physicality correctly though:
Yordan Alvarez crushes one to Outerspace
Anyway, wanna see Yordan Alvarez send a baseball to Jupiter?
A's hit snag in Vegas move
On the opposite side of baseball, how's that A's stadium in Vegas thing going?
---
Follow Sam on Twitter @Felsgate.