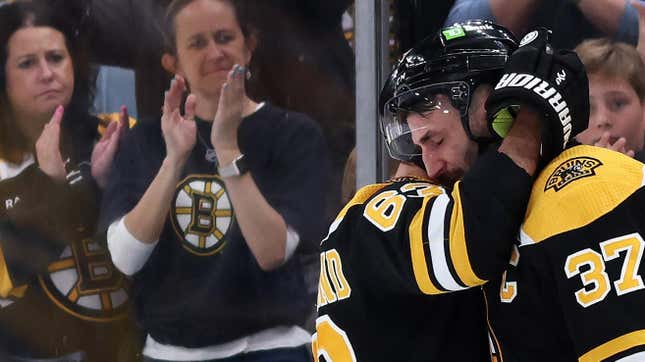 The NHL Playoffs gets its jollies from defying logic or explanation, and reveling in its unpredictability. That doesn't mean it's always a free-for-all, as hockey and its fans would have you believe. But it delves into the chaos and silliness more often than its brethren, that's for sure.

What can make the NHL more exciting?
Both No. 1 seeds got bounced
Last night in dueling Game 7s, both No. 1 seeds in each conference ate it in one-goal games. The record-setting Bruins, with their 65 wins and 135 points, were a minute away from sending the Florida Panthers home where they belong, but a tying goal from Brandon Montour off a bounce off a skate sent the game to overtime. There, Matt Grzelcyk and Brandon Carlo got a little confused on a dump-in, hesitating just long enough to allow the Panthers to get to the puck first and cause a ruckus, which ended with Carter Verhaeghe loose in the circle to go top cheese to end the series and author the biggest upset, points-difference-wise, in NHL history.
Completely their double were the Seattle Kraken, who rode Phillip Grubauer's biggest game and a bounce off Ben Meyers's hand to a 2-1 win, with a splash of an offside review to cancel out the Avs apparent equalizer in the 3rd period (and rightly so, it should be said).
The Bruins and Avs are not the same, despite their lofty seeding, pub, and expectations. The Avs have had a wonky season from the get-go, with their captain Gabriel ThreeYaksAndADog missing the entire season and the loss of Nazem Kadri pilfering the top six. They were racked with injuries all year and rarely rolled out their full team. But they were good enough to be part of the playoff muck, which is what the grouping had become in the West, and end up on top of the Central Division.
The Bruins were supposed to be as sure of a thing as could be, and we certainly thought so, and yet couldn't close out a pretty flawed Panthers team that couldn't even get its #1 center, Sasha Barkov, to show up at any moment, whatever his assist total may be.
What happened to the Bruins?
The Bs certainly seemed to freeze in Game 6 and 7, especially in overtime last night, where the apprehension passed back and forth between team and crowd and multiplied with each sharing. The Bs made the choice to flip to Jeremy Swayman in net for Game 7, after Linus Ullmark was pretty sketchy in Game 6. And he was fine enough, though Bs fans will be playing over the softie that opened the scoring on Sunday. Boston had flipped between their goalies all season, so doing so again shouldn't have been a big deal, but will be pounced on by all observers in the Hub you can be sure. If anything they should have probably bounced between their netminders sooner.
It would be the biggest folly ever to try and deduce meaning out of the six-month regular season pretty much being obliterated by what happens in the playoffs on the reg. This is just the way hockey wants it. The combination of the nature of the sport (every game is only decided on a handful of moments), the strictest salary cap in sports (and one that has remained flat for a few years) has simply made it so there isn't much difference between these teams, even one that was 42 points better in the regular season than their opponents. Over two weeks, any team can run with any other one with just the right amount of fortune. Fuck, you can put a team together from scratch and watch it have playoff success within two years, which has now happened twice in the past five years now in this league.
It was a stark contrast to what went on in the NBA earlier in the day, where the Warriors could let Steph Curry bury the Kings by himself, though it should be mentioned that the Warriors are a 6-seed themselves after pretty much ignoring the regular season. But they've earned that right. The Avs couldn't run Nathan MacKinnon and Cale Makar out there for 40-45 minutes, and the deeper you go into the lineups the more the teams look the same. It's harder and harder to stack talent for long.
There's not much you can do about how hockey works, and this isn't some call to find a way to step-ladder the playoffs to make the regular season mean more. The bounce that got to Montour to tie Game 7 with less than a minute to go could have gone anywhere. The multiple bounces that led to the Kraken's opening goal were the very definition of random. That's just how it goes in this.
Of course, with yet another season of the cap remaining flat and this kind of goofiness always likely, fans might start to wonder why even bother with the 82 games. Until the cap really starts to jump, they matter less and less.
Very bad soccer
Two very stupid soccer teams played a very stupid soccer game yesterday, as Liverpool took a 3-0 lead on a Spurs side that apparently left the bus running, only to blow that lead when they switched jerseys around the 40th minute, and then Liverpool won it when Tottenham had a very Tottenham moment.
But perhaps the perfect symbol for this game, and both teams' seasons, was Liverpool manager Jurgen Klopp pulling his hamstring celebrating a winning goal that really shouldn't even feel all that good, while yelling at the 4th official, whom he later admitted hadn't done anything wrong:
Life is in the details, I suppose.
---
Follow Sam on Twitter @Felsgate.