Our puckhead Katie Bakes is dicking around scenic Pittsburgh for the NHL Winter Classic. She has filed the following icy report.
Hello from misty, cloudy Pittsburgh! The city sure is jazzed for tomorrow's Winter Classic. They've decked out the entire Westin hotel with game-themed flair, right down to the room keys: I was handed two of them, one Sidney Crosby and the other Alex Ovechkin, of course. And last night as I went searching for food I saw dozens of people walking around town in Pens jerseys (many of them retro baby blue) although it's unclear whether that's specifically in advance of tomorrow or whether that's what people in Pittsburgh, like, wear on the regs.
By the way, Yuenglings cost $2.25 here. Fuck you, New York.
They're letting anyone into this thing: I'm typing this from the Heinz Field press box, where, unlike my miserable journey to another Pennsylvania football stadium, I actually was awarded a seat. I felt important and beloved by the league until I spotted "BroBible.com" on the credentials list a few seats down from mine. And next to me is a nice lady from the Bleacher Report, so.
I'm sure by now you've seen the time-lapse video of the rink at Heinz Field being constructed. (I have a theory that 50% of the people who are aware of the Winter Classic know it only from the time lapse rink videos that are shown every year on the Today Show.)
G/O Media may get a commission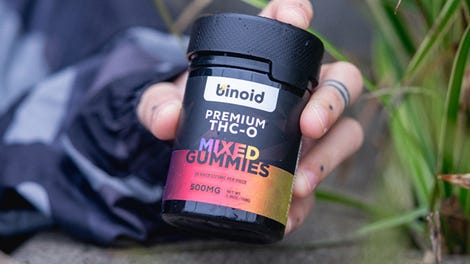 25% Off + Free Shipping
Binoid THC-O Gummies
Yesterday I was lucky enough to skate on the rink, and while having a bunch of media puttering around on the ice was as awkward as you might expect (many of them wearing jeans and long pea coats along with their skates), it was pretty kickass.
Basketball players aren't the only ones to grow bloated and out of shape: the Alumni Game was held this morning, featuring former Caps and Penguins in various states of disrepair and decay huffing and puffing around on the ice. Seriously, you should have seen some of these guys in the hallway after the game. They looked haggard. They'll be dead by tomorrow. (Still love you, Kevin Stevens!) Many expressed great relief that the game, which ended in a 5-5 tie, didn't go into any sort of overtime or a shootout.
(Speaking of former athletes, it's a tie for best press release title: "Mario Lemieux, Franco Harris and Jerome Bettis Will Take Part In Game Day Festivities" and "Pittsburgh, Washington 'Signature Sandwiches' Face Off For Bragging Rights at 2011 Bridgestone NHL Winter Classic." I think we can guess which game day festivity the Bus will be taking part in!)
Mario on his former roommate, Sidney Crosby: Like any otherworldly athlete, Mario Lemieux just has this presence about him. Even his choice of headgear carried notable weight. As TSN breathlessly reported: "Super Mario played in a Winter Classic tuque complete with pom-pom and wasted no time making an impact."
I thought about piping up during the press conference to ask him if he's watched 24/7. But so dignified was the air in the room, so respectful the vibe, that it seemed overly asinine. Plus I was terrified I'd get just a curt "no." But now I'm filled with regret. I have failed at my job. At the least, it would have been better than the umpteen questions he got that were variations on: "Sidney Crosby. Discuss."
Crosby's 25-point streak came to an end the other night, against the lowly Islanders. "It's pretty hard to do this day in age," Lemieux said of the streak. "It's much tougher now to dominate in the league, and go out there and do the things that he does every night, every shift." He also noted something that was no surprise to anyone who saw the scenes in last week's 24/7 of Crosby talking hockey nonstop: "He thinks about hockey 24 hours a day. In his sleep, it seems like."
Speaking of which, 24/7 just gets better and better. While the league may not be catching a break with the weather tomorrow, it's had a charmed month of December in terms of material for the show. (I'm preemptively devastated that this week will be the last.) Episode 3 was perhaps the best yet — Greg Wyshynski, taking a page from James Lipton, called it "the most riveting, unflinching and hypnotic presentation of regular-season hockey to ever hit the airwaves." Scrumtrulescent! — in large part because the featured game between the Caps and the Penguins was a stunner. The teams ended up in a prolonged shootout that was finally ended by Pascal Dupuis, who has been one of HBO's favorites throughout.
War Room During Penguins/Capitals 24/7 from Greg Wyshynski on Vimeo.
The focus of the episode was the Caps-Pens game, and while all that was fantastic (particularly the back-and-forth editing of Bruce Boudreau's intermission speech with Dan Bylesma's, and the "War Room" footage of Colin Campbell and other league officials reviewing a no-goal call) my favorite parts of the episode, once again, were the little scenes that underlined the humanity of even professional athletes.
Niklas Backstrom's traditional Swedish Christmas dinner party was tops. Eric Fehr's "adopt a family" community service was touching. Watching Boudreau embarrass his children while shopping, pathetically, for a gift for his wife was made even better by the following scene, with Bylesma gamely helping out with the Christmas cooking before playing Kinect with his son. And I got a weird kick out of seeing Matt Bradley waddle around in a hospital gown, his big ole hockey butt unmistakable under the garment.
Ben Lovejoy gets knocked in the noggin: Just as even the most ferocious of pro athletes are helpless against the ravages of injury, they also can't help turning into giddy children when they score their first NHL goal. Each team had such a player: The Capitals' Andrew Gordon couldn't repress his beaming pride in the locker room after netting his first, and the Penguins' Lovejoy had that same gleeful face on the bench — before said face was mangled, later in the same game, by a blistering slap shot to the cheekbone. (The resulting gash would become a running gag throughout the episode as Lovejoy's head swelled to South Park-like dimensions.)
(Montage via Total Pro Sports.)
Lovejoy wasn't the only one hit in the head. In one perfect sequence during the Caps-Pens game, a puck caromed over the boards, striking a woman named Mary who turned out to be a timekeeper employed by the Caps. As she was escorted, bleeding, into the bowels of the rink, a sweet moment was captured by HBO's mics: a conversation between referee Kelly Sutherland and a man standing off-ice who looked like a median composite of every suit-wearing beer-gutted mustachioed rink official that I've seen in my life. (I might have misheard, but I think he said that Mary was his daughter, which is even more perfect.) "Did we get her the puck at least?" asked Sutherland. It might have been the hockeyest hockey moment of all time.
Little Ovie wants to play, rain rain go away: Speaking of 24/7: the latest episode showed the city of Pittsburgh waking up to a white Christmas. It was a bit of a punch in the stomach, because what everyone here is really dreaming of — and what no one is going to get — is a white Winter Classic. With a forecast calling for balmy temperatures nearing 50 degrees tomorrow and rain followed by rain, all anyone could ask NHL Chief Operating Officer John Collins at his press conference yesterday was: what time, or what day, will the puck be dropped?
"We're planning to go at 1," he said robotically, over and over, his face frozen in an expression that was half smirk, half resignation. "We're going into this with the idea that we're playing at 1." The man's got a future in politics.
The league has "maximum flexibility" with NBC and its sponsors to delay the game as late as is needed. A 7pm start isn't out of the question, nor, more ominously, is a Sunday game. (The weather on Sunday looks to be chilly, sunny, and perfect.) My money's on 7pm, which actually wouldn't be terrible — most of the college football bowl games have 1pm kickoffs, and even TCU plays at 4:30.
Plus, all the fans will be tailgating in the rain for like ten hours, which is never not fun. Yinzer Deadspin readers: who will be the first to break out and give us a boozed up naked ice slide? Come on! I'll even buy you a Yuengling.