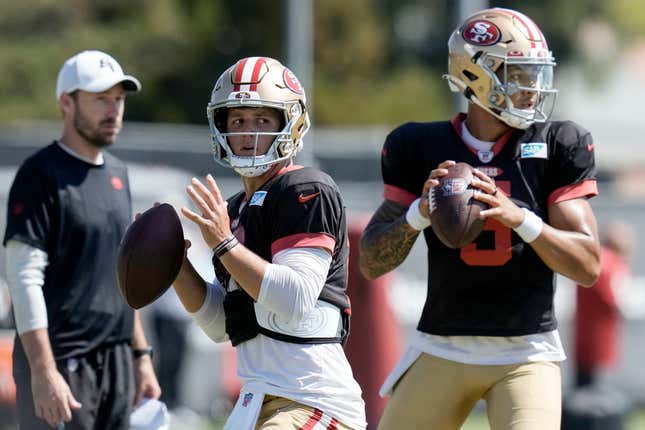 Championship urgency is more real in the NFL than in any other sport. When that window is open, teams have to climb up the ladder and jump in like Sam in Clarissa Explains it All. Any hesitation and soon that hard salary cap will not allow a contending team to satisfy every talented player who deserves a raise. The San Francisco 49ers have managed to prop a championship window open with a 2x4 since 2019, but they know that piece of wood will not hold for long. That is why Jimmy Garoppolo is out and the 2023 quarterback room includes Trey Lance, Brock Purdy, and Sam Darnold.
Best 2022 NFL trade deadline deals?
The Niners were done with Garoppolo last season when they brought him back on a restructured contract. He was practicing on a different end of the field from the rest of the team that summer. Lance suffered a season-ending injury in Week 2 and old Garoppolo was forced back into action, running a familiar offense.

The 49ers won that Week 2 matchup against the Seattle Seahawks, but then lost to the offensively inept Denver Broncos in Week 3. The panic meter reached critical mass on the 49ers' side of the Bay Area near Halloween. Then at 3-4, they went undefeated the rest of the regular season.

Garoppolo suffered a foot injury in Week 13 and Purdy, the last overall pick of the 2022 NFL Draft, led the 49ers to an second-consecutive NFC Championship game appearance. That game ended with him playing quarterback in a game with a Super Bowl appearance on the line with a throwing elbow that ceased to function after an early injury that day.
Fast forward to August, Purdy avoided Tommy John Surgery on his torn UCL with a procedure that was first used on patients in 2013.

Garoppolo signed with the Las Vegas Raiders in March.
So the 49ers enter this season with Purdy penciled in as the starter coming off of a major elbow injury that he suffered in January, with Lance and Darnold available in the bullpen if his elbow doesn't hold up. Lance should be the ideal choice for the job as the 49ers' 2021 top draft choice, but he has started four games in two seasons, finishing only three. The 49ers are so enthusiastic about their quarterbacks that they signed the New York Jets 2019 No. 3 overall pick to compete with Purdy and Lance.
During a joint practice with the Raiders last week, none of the three quarterbacks played particularly well, with Purdy throwing three interceptions. The 49ers played against the Raiders in a preseason game on Sunday. Lance's strong stats don't tell the story of a day that he struggled in the pocket, albeit behind the 49ers' back-up offensive line. However, outside of Trent Williams that position group will not be the strongest on the roster come September.

The 49ers still have to ink Defensive Player of the Year Nick Bosa to a long-term deal. They brought in Javon Hargrave this offseason, and have already taken care of Christian McCaffrey, Williams, Deebo Samuel, Arik Armstead, and George Kittle. Brandon Aiyuk and Talanoa Hufanga are still in line for big paydays. In 2024 and 2025 the 49ers can get out of some of their bigger contracts for reasonable cap hits.
The 2023 season is the 49ers best chance at the franchise's sixth Super Bowl Championship, and penciled in as their starter is the 2022 Mr. Irrelevant coming off of a relatively new surgery on an injury that usually takes longer than nine months to return from.

Most franchises would be envious of the 49ers overall talent level, but none would want that fat question mark at quarterback after giving up first round picks in 2022 and 2023 for Lance.

Then again, with Shanahan's offense, maybe all that the 49ers need is a warm body with a healthy elbow at quarterback who won't melt into his socks while trailing by three points with just under two minutes to go and a Super Bowl appearance on the line. They had just better know that if the job doesn't get done this season, a third decade without a Super Bowl Championship appears likely.