A quick look at what the Internets are saying about the Rockies' 3-2 win in over the Diamondbacks in Game 2 of the National League Championship Series ...
• And Speaking Of Sweeps. Two important things happened in this game: first, the Snakes' defense failed in the second, giving the Rockies an unearned run and the early lead. That was erased soon enough in the in the third, when Arizona scored one of their own to tie it. Second, both closers — Manny Corpas and Jose Valverde — crumbled at the wrong time, and in Arizona's case, it turned out that Bob Melvin couldn't pull the trigger on a pitching change fast enough when Valverde, in his second inning of work, gave up a bases-loaded walk in the 11th. Without looking, I'm not convinced he had no better options (Doug Slaten had been warming up), but maybe he's learned a lesson. [6-4-2]
• Walk This Way. In a way, the Rockies are turning the tables on the Diamondbacks. Arizona posted a higher batting average, OBA and slugging percentage in the two games, but Colorado out-scored them 8-3. The DBacks had four runners removed via double plays, caught stealing and Drew blunder. When teams aren't putting a lot of people on in the first place, you can't afford to lose potential runs. The Rockies only hit into one double play so far. [Baseball Musings]
• Rocks Move To Two Wins Away From World Series. Nobody Notices. I don't know, maybe it's just that the Rockies have been winning so much lately that it's not really news any more when they win, again, in dramatic fashion. But if the Rockies win two more games against the Diamondbacks and get to the World Series for the first time in their history ... will they be the most anonymous World Series team in history? [Up in the Rockies]
• Arizona Diamondbacks Teeter On Brink Of Elimination. Geeeeez, can anything go more right for the Rockies and more wrong for the D-backs? D-backs got not one check swing call in their favor the whole night, a lot of controversial ball strike calls, and even though their hitting much better than the Rockies, the Rockies seem to tap the ball to perfect spots while the D-Backs line balls right to positional players. I am absolutely steaming right now and am looking forward to the Cards game on Sunday. [comment at Arizona Sports Fans Network]
G/O Media may get a commission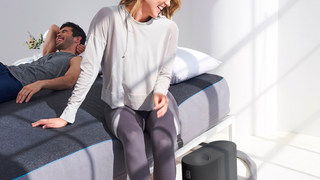 Eight Sleep Pod Cover
• The Rockies Are Out of Control. Make that 19 of 20 and chalk it up to effing awesome. [Babes Love Baseball]
• Morning Wood: The Haiku Edition ...
The snakes, defanged, hiss.
The mountains greet Valverde.
Hit. Walk. Walk. Walk. Win.