This pasty fellow, described by Every Day Should Be Saturday as "so aggressively white that bleach is afraid of him," is South Carolina quarterback Blake Mitchell, who was arrested after a bar fight early Wednesday morning.
The circumstances leading to his libatory scuffle are somewhat curious.
Mitchell initiated a verbal exchange with Kylan Ertzberger, 19, asking if Ertzberger liked Mitchell. Ertzberger said he had no problem with Mitchell but didn't like the fact he was trying to bring underage women into the bar. When Ertzberger turned to walk away, Mitchell punched him in the left eye.
So, if we're reading that correctly, the exchange might have gone something like this:
Mitchell: Do you like me?
Ertzberger: Sure, man, I like you.
Mitchell: Really? Because sometimes it seems like you don't like me.
Ertzberger: Well, it's not that I necessarily have a problem with you, see, but you keep bringing underage girls into the bar.
Mitchell: Define "underage."
Ertzberger: Well, I'm 19, so I guess by "underage," I suppose I mean "JonBenet."
Mitchell: Her? Oh, naw, she's 18, man, totally.
Ertzberger: She's got pigtails, braces and is carrying a big bag that says "Richland County Middle School."
Mitchell: [looks left]
Mitchell: [looks right]
Mitchell: [punches Ertzberger in the face]
G/O Media may get a commission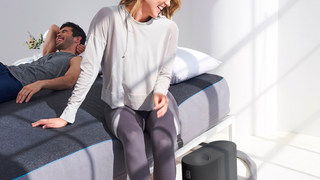 Eight Sleep Pod Cover
Mitchell has been suspended by coach Steve Spurrier for not running up the score on Ertzberger's face.
South Carolina Quarterback Arrested, Suspended [The State]
Hmmm, Let's Check The Dictionary [Every Day Should Be Saturday]
Apologies to The Dugout, by the way.