The Associated Press is reporting that Catalan clubs like Barcelona, Espanyol could be barred from playing Spain's La Liga sooner rather than later. Sure, that's true, whatever. On the other hand, c'mon.
Catalonia and Spain's relationship in soccer is a fascinating thing. The region of Catalonia has fought for autonomy from Spain for hundreds of years, and more recently, the world has seen the political struggle play out on the pitch whenever Catalan side Barcelona faced Real Madrid in the greatest rivalry in sports. Catalonia, with a bustling economy, is the country's wealthiest region, and its current government wants independence now. The Spanish parliament, however, isn't trying to hear it.
Here's the AP with more:
A debate held in parliament in April vetoed the region's request to hold a referendum by 299 votes against to 47 in favor.

Despite the veto, the Catalan government says it will hold a non-binding referendum on Nov. 9, a decision that has led to furious arguments about the ballot's legality.
That's when La Liga president Javier Tebas (who was born in Costa Rica but whose family has roots in Spain) was all like, "Let me put my two cents in," and said that the current La Liga rules only allow teams from independent region Andorra to participate in the league. Catalan clubs would need a "modification of the law" to continue to play. Tebas went on.
"For such a modification to be given the go-ahead, we'd have to wait and see if the affected sector would agree to such a change," he said, in reference to how Spain could react if Catalonia succeeded in seceding. He then said the development would be "a disaster to the development of the football industry."
G/O Media may get a commission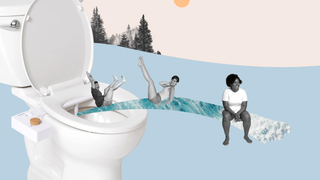 17% off
Tushy 3.0 Warm Water Spa Bidet Attachment
Sure, that's true, whatever. It would suck for La Liga to lose one of the two best teams and the greatest player the league has ever seen in one fell swoop. La Liga would be a laughingstock, and suck besides. Millions upon millions of people would stop watching altogether. Which is why if—if—Catalonia found a way to secede, the rules would change.
Photo Credit: Getty