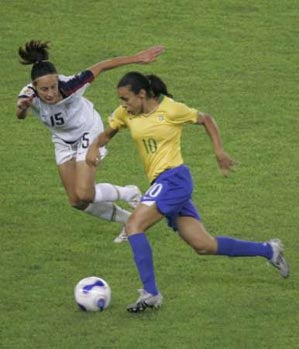 Considering it is soccer, it was only a matter of time until the rest of the world caught up with the United States. But this morning's 4-0 loss to Brazil in the semifinals of the Women's World Cup was still rather shocking.
The US had changed its goalkeeper before the game, and that clearly didn't work out, though the first goal was one of those "own" goals that always keep soccer amusing. The U.S. will now play in the third place game, but we're America, and we don't give a crap about third place.
To sate you, here are the most attractive women in the Women's World Cup. It's something, anyway.
Babes Of The Women's World Cup [The Leaky Brain]