There might be a gas outage in Pittsburgh this week because the stove, my friends, appears to have gone freezing cold for Andrew McCutchen and the Pirates.
The best sports movies according to Toheeb Jimoh
The Pirates have spent the last week letting reporters know that they are ready to move on from McCutchen, their one-time MVP and face of their franchise. The team has not been shy about putting their most well-known star on the very public trading block in search of pitching, but with a couple of potential trades falling apart, it looks increasingly likely that the two parties will have to make it work for another year, with the awkward understanding that the Pirates would rather just not.
The Nationals were understood to be the hot contenders to get the 30-year-old outfielder, and by at least one passing rumor, the Nats were wild enough to believe their offerings were deep enough get Chris Sale and McCutchen going into the winter meetings. The Nationals wound up with neither; they lost Sale to the Red Sox and then went cold on McCutchen, despite engaging in what appears to have been fairly advanced trade talks.
Jon Heyman reports the Nationals and Pirates had a potential trade in the works in which the Nationals would have given up young pitchers Lucas Giolito and Dane Dunning, along with one other player, but it didn't go through. The Nationals traded for Adam Eaton instead. The Rangers had expressed interest in McCutchen, and the Dodgers at least gave him a passing look, but based on various reports, the trade market for McCutchen has dried up, and the Pirates expect to see their biggest name player at their fan festival this weekend, and will likely keep him for the last year of his contract.
G/O Media may get a commission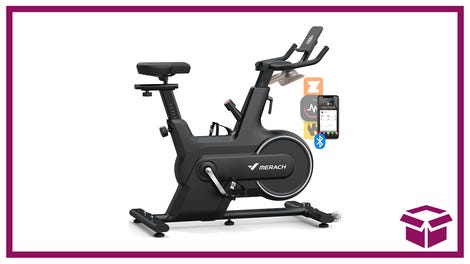 14% off + Coupon
Merach Indoor Cycling Bike
It's worth noting how strange it is for a player with McCutchen's résumé to be so seemingly unwanted by the rest of the league. Here is a list of outfielders with at least 4,000 plate appearances who posted an OPS+ between 140-150 through their age-28 season. You'll see McCutchen's name on that list, along with a number of former greats and Hall-of-Famers.
Two or three years ago a lack of demand—or at least unwillingness to give up a big haul—for McCutchen would have been unfathomable. So what's the problem now? Not only did McCutchen's productivity fall off a cliff in 2016, resulting in—to put it lightly—the worst year of his career, but an expressed disinterest in moving from his position in center field to left or right field also seems to be hurting his value.
In 2016, Cutch hit .256/.336/.430/.766 with a career-average 24 home runs; just two years ago he hit an incredible .314/.410/.542/.952 with 25 home runs. He's been fairly fortunate in his career to avoid major injuries—he was out for two weeks in 2014 with a rib injury, but has avoided the DL otherwise. His health became an issue last year, though, when he left a game in June due to persistent swelling and pain in his right thumb. He told reporters that vibrations of the bat were making it difficult to get the problem under control, and his numbers in June reflect that pain: McCutchen managed just 20 hits in 99 at-bats throughout the month of June, and his slugging percentage took a freefall from .455 on May 31 to .413 by July 1. He hit .202 in June, and he hit just .266 when excluding that month from his season totals.
It's not unlikely that McCutchen played through a chronic hand injury (without much mention or notice before or after June), as his slugging percentage remained in the very low .400s until he went on a late September tear, hitting .324 and slugging .559 between Sept. 15 and Oct. 2 to give his numbers a slight padding for the season. Whatever factors might have contributed to the stunted offensive production—a swollen thumb, age in general, waning confidence as the slump went on—it was a very, very rough year at the plate for the fan favorite.
Where it really gets sticky is McCutchen's defensive production in 2016. He was overall the worst fielder in baseball last year, and that's not exactly helpful when a team wants to sell high.
In every year but 2011 and his 2014 MVP year, McCutchen's been a below-average fielder in center. Single-year defensive stats are not gospel, but in 2016 he earned—and I can't help but cringe as I type this—a -2.6 defensive wins above replacement, a number so far below every other player who appeared in over half his games at center field that you should just close your eyes and weep. For league-wide context, McCutchen tied with formerly mobile baseball player Matt Kemp for second-worst, and came in just a smidge ahead of J.D. Martinez. It was a shocking drop-off from his mark of -.6 in 2015, and McCutchen's 2016 dWAR dragged his overall WAR down to the negative for the first time in his career.
McCutchen was also worth a -28 defensive runs saved above average, which is, you know, very bad. His ultimate zone rating, which essentially measures overall defensive prowess, was a -18.7 for the season, a plummet from -4.5. To put this in context, FanGraphs puts the barometer for "awful" at a -15.
The Pirates might have been better off putting a glove on a scarecrow and sending him out to patrol centerfield, which must make it all the more frustrating that after the season McCutchen said he would not move to an outfield corner position. He told MLB.com after the season: "I don't see myself needing to move. I don't feel like I'm slowing down and hurting my team because of where I play," which is an interesting perspective from a man who apparently wore cement shoes in the outfield. Further frustrating the Pirates must be the fact that Starling Marté is a back-to-back Gold Glove winner in left, and fared pretty well in the nine games in center the team managed to place him in.
Despite all of this doom and gloom, it's downright hard to believe a player whose production very recently echoed the likes of Ken Griffey Jr. and Vladimir Guerrero now finds himself on a team trying and failing to offload him in an unwilling market. Maybe the perennial .900+ OPS and big WAR seasons are gone forever, but I don't think anyone expected the Pirates to hang a "GOING OUT OF BUSINESS: EVERYTHING MUST GO" banner over their fan favorite this offseason.
Even if the Pirates continue to fail at finding a trade partner and end up letting him play out the last year of his contract in Pittsburgh, that will offer little solace for sentimental Pirates fans who have now witnessed their team drag the city's most beloved baseball star since young Barry Bonds into a messy breakup. They may get to see McCutchen play another 162 games in a Pirates uniform, but the Andrew McCutchen era in Pittsburgh appears to be officially over.