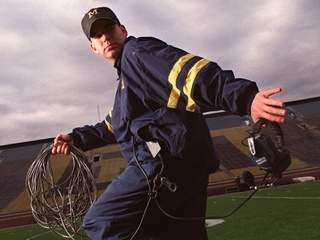 Way back in 1997, student managers brought it to Lloyd Carr's attention that those witty rascals at Northwestern were stealing signals from the Michigan offense. Well, okay, maybe not so much stealing signals as noticing what a single player was doing. Perhaps this explains the memorable Northwestern upsets of Michigan in 1995 and 1996. But, three years later, come 1997, Michigan was on to that trick.
"In 1995 and '96, Hansburg said, all he had to do was watch U-M center Rod Payne, a one-handed snapper who apparently placed his opposite hand on the ground for a running play and on his thigh for a passing play.

When the Northwestern coaches pointed at the ground or the sky, All-America linebacker Pat Fitzgerald spread the word on the field."
Wait, that's it? When I heard Northwestern and stealing, I was picturing the Manhattan Project of thievery, the Patriots of college football. Meanwhile all Michigan had to do to was stop Rod Payne (one-handed snapper is right up there with putting from the rough in terms of sporting term awkwardness) from not giving away the play for, I don't know, one time in three years? Write it down folks, attention to detail like this is how you end up the winningest program of all time in college football.
Anyway, in glorious detail the Detroit FreePress manages to lionize the student managers who got to the bottom of this complex mystery. It's every slow white man's dream to be affiliated with a national championship and be photographed in the Heisman pose while holding a coaching headset. Trust me, I know why the student manager sings.
This story reads like young adult fiction.
"At home games, Datz and Mike Youtan, a senior from southern California, worked the opponents' sideline as ball boys, keeping their mouths shut and staying out of the way.
Until the fifth game."
Dum, dum, dum.
http
How 2 ball boys stopped opponent's signal stealing, saved U-M's 1997 title [Detroit FreePress]