The Mighty MJD's Smorgasbord runs every Monday. Do enjoy.
• For some reason, one of the 70-inch TVs is set on double-zoom mode, and I'm getting an outstanding look at Emmitt Smith's graying stubble and Mike Ditka's dental work. Mike, next time you see your dentist, please congratulate him/her on the fantastic work they did on your maxillary lateral incisor. You can't even tell that you once bit into a lead pipe because you thought it was a popsicle.
• Late-breaking news from Rachel Nichols on the Dolphins/Giants game in London ... Jay Feely has Plaxico Burress in his fantasy line-up. Please adjust your ... actually, I have no idea what you're supposed to do with that information.
• Fox has opted to send Tony Siragusa to England ... which is great, because we, as a nation, have kept Tony Siragusa to ourselves for far too long. It's time we shared this national treasure.
• By the way, this Taco Bell commercial, with a big brother giving his little brother his three rules for living ... perhaps the most intensely annoying non-Mellencamp commercial of the last five years. I nominate that guy for the worst older brother ever ... and my older brother himself spent a large portion of his Saturday evening attempting to teabag a 42-year-old man.
• Dolphins/Giants is underway ... and I was under the impression that the Dolphins would get to use the 26-foot machine/monster Jason Taylor on the field. I thought this was some kind of effort to help the league's competitive balance. Disappointing.
G/O Media may get a commission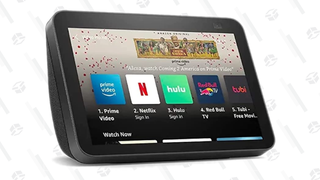 • We're past kickoff time ... and of the 9 TVs in the room, two of them are on bowling, and the other 7 are showing a combined two games. New TV guy is still finding his sea legs. But that's all right, it's not like this is a sports bar or anything.
• Steven Jackson is announcing his presence with authority ... on the Rams opening drive, he picks up 31 yards and the TD. Maybe we've all failed to realize just how bad Brian Leonard might be.
• Plaxico Burress runs a short slant, and to get open, he uses the seldom-taught "shove the defensive back down by the face" technique. It's just one of those fundamental things that today's receivers have gotten away from.
• VINNY > PEYTON. The Panthers rip off an 11-minute opening drive and take a 7-0 lead behind a DeShaun Foster touchdown. I understand, no defense is perfect ... but 11 minutes? Against Carolina? That's a bad sign for next week.
• The Giants just failed to pick up a 3rd down on a miserable little screen pass attempt to Madison Hedgecock. I could be wrong, but after the play, I think I read Tom Coughlin's lips saying, "Was that third down?" Something else have your attention, coach? Marveling at the UK's Parliament system?
• Here's something I didn't anticipate seeing this weekend ... or ever, really. A Vikings touchdown pass. It was only a matter of time before those Kelly Holcomb to Visanthe Shiancoe sparks started flying.
• And they follow it up with an onside kick! Brad Childress has BALLS OF PLATINUM. It's that old NFL saying ... when Kelly Holcomb is hot, you keep getting Kelly Holcomb the ball.
• I think I just saw six dudes sitting in a garage, playing a song called "Viva Viagra." And I think it's great ... too many of those unnatural hard-on commercials have a man in a woman together in a bathtub overlooking a cliff, or a man and a woman in a hammock ... gay guys need to increase blood flow to their cock, too, don't they? And if they want to sit around in a garage, singing a song that celebrates man's pharmaceutically inspired erections, then I say more power to them.
• And it's 14-0 Rams ... behold the power of Steven Jackson. It's not just him ... Marc Bulger's off to a 7-of-8 start, and just hit Torry Holt for a TD pass. I am shocked.
• In a bigger-picture sense, it's also shocking that I'm shocked that someone's beating the Browns. It's been a wacky 2007.
• A couple of British fans in the Giants/Dolphins game have giant fake Yosemite Sam mustaches glued to their face. What a wonderful image we have abroad.
• VINNY > PEYTON. Manning is 0-for-3, Vinny is 6-for-8. It's a Halloween miracle. And just as I note this and thank Satan for his work, the Colts fumble the ball away, and the Vinnies take possession at the Colts' 28-yard-line.
• Aaaargh. VINNY maybe not > PEYTON. The Ancient Italian Interception Machine just threw a pick in the endzone that would've given the Panthers a 14-3 lead. Ideally, the Colts and Patriots both go into next week undefeated, but if Vinny has a chance here ... how could you root against Vinny?
• CBS is showing a graphic in the Steelers/Browns game with adjacent pictures of Bill Cowher and Steely McBeam, asking, "SEPARATED AT BIRTH?" I don't think they were separated at birth. Their ears are too dissimilar. I do believe, though, that if Steely was in that garage with one of the Viva Viagra guys, the only thing separating them would be a thin layer of Crisco and some ass hair.
• And London is treated to their first official NFL touchdown! And it's the best kind of NFL touchdown, one that shows off the magnificent physical attributes of our finest American athletes ... Eli Manning prancing into the corner of the endzone.
• It might just be my imagination (or this television), but everyone in the London game looks a little bit whiter. Eli is whiter than usual, Jay Feely looks like a bottle of paste ... even Cleo Lemon could pass for "really, really, tan." Someone should do a study on the whitening effects of British life.
• And the magic has likely just died ... a pulling guard (Mike Wahle, I believe), just inadvertently mashed Vinny Testaverde's ankle ... and I suddenly fucking hate Mike Wahle.
• Chad Johnson goes down in the Steelers/Bengals game ... he slams into the ground chin first, nothing breaking his fall, his helmet popping off, his face crashing into the ground ... ick. That looked like it hurt.
• Steven Jackson has gone back to the locker room in the Rams/Browns game ... I'm not sure of the injury, but he likely just took any hope of a Rams victory with him.
• Things aren't going well for TJ Houshmandzadeh, either. He just made a catch and took a pretty strong borderline-late hit from a Steelers DB ... but after the play, to his credit, he got up motioning for the Steelers to bring it on and do it again. Unfortunately, they took him up on the offer ... A ball on the sidelines goes sailing over his head on the next play, and some Steelers DB took the opportunity to put his shoulder into Housmandzadeh's face and just blast him to the turf.
• The novelty of this Giants/Dolphins game has worn off just a touch ... but I think that's just because it's one of the uglier games in NFL history. The Battle of Culloden featured crisper execution.
• Normal-sized Jason Taylor just hopped on an Eli Manning fumble with the Giants leading 13-0. The way players are sliding around in that game, it looks like they're playing on wet clay.
• Someone just grabbed Kelly Holcomb's head and spiked it down into the turf, turning Holcomb's entire body upside down in the process ... the guy was nearly perpendicular to the field when his head hit the ground. That'll compress some vertebrae.
• Nearly simultaneously, Peyton Manning gets top-rope splashed by Kris Jenkins and is on the sidelines, getting the smelling salts.
• The Steelers are going to beat the Bengals, but there's a little game-within-the-game happening ... Kenny Watson has a little over 80 yards with 4:00 to play, and the Steelers haven't allowed a 100-yard rusher since ... I dunno, 1827 or something.
• And Kenny Watson has the ball stripped on the next play, and the Steelers recover. Kenny Watson's going to have to settle for 88 yards.
• Whoa ... Kevin Curtis just made the catch of the year for the Eagles. He went up with one hand, like he was attempting to knock an uncatchable ball away from a defender, and ended up hauling it in with one hand. It may be the most spectacularly athletic three seconds ever experienced by a white man. See for yourself.
• My goodness ... the Browns have committed 14 penalties for 101 yards ... and they're still going to beat the Rams.
• Cleo Lemon finds Ted Ginn for a touchdown, pulling the Dolphins to within 3 points of the Giants with 1:54 to play. England, prepare to experience the glee of the most common type of NFL game ... close, but extremely shitty.
• Of course, Jay Feely takes all the suspense out of it, opting for the "line drive straight out of bounds" onside kick tactic. That seems like a poor strategy. Imagine this being your first NFL experience, and you just saw Jay Feely kick the ball off, straight out of bounds, traveling about 10 yards. I'd imagine that would take some explaining.
• They're closing this portion of the bar for some kind of party, so we have to relocate upstairs ... where I'm surprised to hear the loudest cheers for the Bills/Jets game, which can't possibly make a tiny bit of difference to anything significant in the NFL.
• Meanwhile, the Texans long snapper rifles one over Matt Turk's head ... and he didn't just overshoot him by a little bit. The line of scrimmage was the 33, and this ball easily made it to the endzone. That thing was still on its way up when it cleared Turk's head.
• Anyway, Turk turned around and attempted to fall on the ball, and whiffed by a solid yard. He was being chased, but he had a clear opportunity to dive on the ball, and he just ... he just decided instead to dive on a neighboring piece of turf. Antonio Cromartie scooped up the ball for an easy touchdown.
• Tom Brady, with a wide open Randy Moss in the back of the endzone, tucks the ball away and keeps it himself for the rushing touchdown. A couple of minutes later, Tom's on the bench sitting next to Randy Moss, explaining/apologizing his selfish choice. I've never seen a receiver so blatantly placated before ... that's dedication from Tom Brady. Moss never makes eye contact, but the exchange ends with Randy giving a thumbs-up.
• Someone might want to alert the Texans to the presence of Antonio Gates. I know everyone's excited about Chris Chambers, but it's probably best to not quintuple cover Chambers and let Gates run free.
• I don't know if it's just this one guy, or this is tradition at Jets games ... but they show some fan sitting in his seat wearing the Hulk Hands. That has to make it difficult to eat nachos.
• The Texans have run 30 plays and scored 3 points. The Chargers have run 11 plays and scored 28 points.
• Antonio Cromartie is Matt Schaub's favorite target ... which would work well if they played on the same team. Cromartie has his second interception of the day, and for his trouble, Drayton Florence viciously belts Schaub from the blindside. It seems to me that you should be nice to a quarterback who's constantly being nice to your team.
• Florence was flagged for two personal fouls on the play ... and on the sidelines, some assistant coach says something to him, and I believe I lip-read Florence yelling back, "YEAH, I HIT HIM."
• Meanwhile, on the other sideline, I don't think anyone's ever been more obviously concussed than Matt Schaub is right now. He's breathing hard, rubbing his temples, working his jaw ... in this way, he reminds me of a young Troy Aikman.
• I haven't noted anything yet about the Patriots and Redskins game, and if you're wondering about it ... don't. It's straight-up murder.
• On this drive, for some reason, Tom Brady keeps going to Jabar Gaffney ... I think Tom's trying to prove something. "Yeah, it's nice that I have Randy Moss and Wes Welker and Donte Stallworth. But don't forget, I'm still Tom Brady, motherfuckers, and I can do this with Randy Moss, Jabar Gaffney, or an epileptic camel running routes for me."
• Sign at the Chargers/Texans game: "CAN'T BURN SAN DIEGO." Actually, signmaker, there's a certain combustion process that produces heat, light and flame that disagrees with you, and has actually found San Diego to be quite flammable. But that's good, let's taunt the fire. That'll help.
• There's a guy sitting across from me wearing a Redskins hat that lights up. It actually has little lights in it that blink. The little feather coming down from the back of the circle? It's blinking. There's a guy wearing a blinking hat. Without any sense of irony.
• The Patriots just went up 31-0 ... and now, the hat is no longer blinking. I guess 30 points is the blink/non-blink barrier. At 24-0, it's acceptable for your hat to blink. When it crosses 30 points, though ... the shame is too great for a blinking hat.
• JP Losman blindly heaves a pass deep to Lee Evans ... and Evans, because Jets defensive backs like to hit each other, is going to come out of there with the ball and waltz into the endzone. I wouldn't go so far as to say that was blind luck, as Lee Evans did put in the effort ... but there wasn't a lot of skill from JP Losman involved there.
• The Juice, for some reason, is going into full "Antagonize Other Fans" mode. I've never seen him do this before ... yes, he's drunk, but he's always drunk. I guess he's feeling a little chuffed since the Steelers won, and there's something pissing him off.
• He picks out five Bills fans sitting in the front of the room ... one of them wearing a Bills Bledsoe jersey, one of them a Sam Adams jersey, one of them a Nate Clements jersey, and two of them Marshawn Lynch jerseys. We've been sitting in this room for nearly three hours, and The Juice decides that just now, at this very second, it's gotten too aggravating to tolerate any longer.
• So he starts yelling at them ... "Lynch, and Lynch, you guys are alright ... THE OTHER THREE OF YOU ARE FUCKING DUMB. Clements is in San Francisco, I don't even know if Sam Adams is in the fucking league, and Drew Bledose? Seriously. You guys are fucking dumb."
• There's absolutely no reason for The Juice to be provoking anyone ... but it's cracking me up.
• Tom Brady goes to Wes Welker for a touchdown to make it 44-0, New England ... and someone yells, "THE PATRIOTS SUCK." The Juice, who hates the Patriots, can't help himself. "Yeah, the Patriots suck. It looks like it's 44-0 to me. I can't count, but it looks like it's 44-0."
• A nearby Bills fan (one of the Lynch jerseys, if you were wondering), who I don't think is even the guy who yelled it, takes offense, and looks at The Juice and starts trashing the Patriots for having no class, blah blah blah. The Juice responds with, "I'm sorry you have to deal with them beating you by 70 every year."
• About here is where the Patriots go for it on a 4th and 2, up 45-0. And not only do they go for it, but they throw the ball. A Redskins fan near The Juice is pissed off, and with no provocation whatsoever, The Juice starts yelling at the guy, "Yeah, the Redskins look real good ... they're only down SIX AND A HALF TOUCHDOWNS."
• The Patriots finish the drive and make it 52-0, and the Redskins fan starts trying to reason with The Juice. "Come on, if it was the Steelers, you'd be pissed off, too. They're going for it on 4th and 2, and making it 52-0? What if that happened to the Steelers?"
• This is where The Greek, also a Steelers fan, decides to get involved ... his response being, "The Steelers would never be down 52-0." The Redskins guy says, "Yeah, but what if they were? You wouldn't be pissed off?" The Greek says, "I'd just be embarrassed."
• The Redskins fan and a couple of his friends get up to leave ... and they're pissed off, talking trash and giving dirty looks to The Juice on their way out. And some girl with him goes, "Yeah, we'll see you Monday Night."
• None of us have any idea what she's talking about ... but The Juice gets up and turns around, and while holding himself, yells at her, "What's going on Monday night? Baby, what's Monday night? You want to see me on Monday night, honey?"
• At this point, I'm pulling him back into his chair, saying, "What the hell is wrong with you?" The innocent abuse victims are gone now, and The Juice is quite proud of himself. He says to me and The Greek, "Yeah, you know who to talk to if someone's fucking with you." I say, "Yeah, but no one was fucking with you, man." "Yeah, well..." is the best response he can muster.
• Eventually, we figure that this girl is one of those Ravens/Redskins hybrid fans, and she was referring to the Monday Night Ravens/Steelers game next week. Please don't feel bad for her.