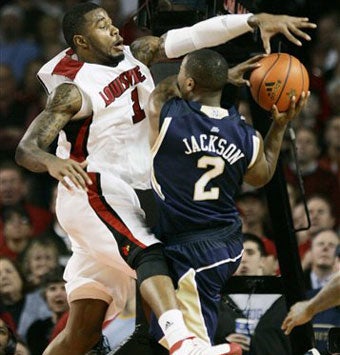 Unlike some sports, basketball games tend to continue until there is a declared winner. Notre Dame must not have been told this, because they failed to show up for overtime last night.
Louisville outscored the Irish 16-2 in the extra five-minute period, as the ND offense withered and died late in the game. They almost lost at the buzzer in regulation when the Irish were actually saved by a weird backcourt violation call. Luke Harangody—say it out loud, it's fun—scored 28 and had 13 boards, but fouled out, while Terrence Williams had 24 and 16 for Louisville, which is like ... way better. The moral of story is that, when properly motivated, Rick Pitino's teams can still play defense.
Okahoma 78, Texas 63: In the Red River something or other, Blake Griffin did exactly what I told him to do (20 and 10, for his 14th double-double in 17 games) as Oklahoma easily dispatched Texas. All five Sooner starters played over thirty minutes, as the bench combined for 10 total game minutes. That's what we in the business call "a lack of depth," but who cares when you're 16-1.
Also, I am now convinced that Taylor Griffin is in Norman merely to confuse opposing defenders into thinking they are guarding his little brother. I think it works too. Maybe the Mannings should try that sometime.