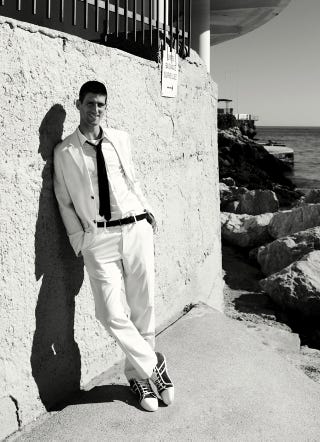 Take note, aspiring tennisfolk, because this is the kind of thing that happens for you if you're on a 41-match win streak in 2011.
Djokovic's opponent, Fabio Fognini dropped out of their match tomorrow due to leg pain. Novak's in the semis now.
You might think a win's a win, but in this case it's not: Now Djokovic, who could have equaled Guillermo Vilas's 46-match win streak in the French final, will have to win the French and his first match immediately afterward. That's a tall order, but he's a tall dude, if that's your thing.
Photo by Norman Jean Roy/Vogue.
PREVIOUSLY: Admiring Novak Djokovic's Last 40 Match Points