Your morning roundup for Feb. 17, the day local politics in at least one American city gets real (entertaining).
• The Los Angeles Clippers beat the Minnesota Timberwolves 98-90 last night. Per usual, Blake Griffin was the highlights reel, hitting his head on the backboard with less than two minutes left. Stupid backboard. [CosbySweaters]
• The Cleveland Cavaliers are on a brand-new one-game winning streak, what with their 104-99 victory over the Los Angeles Lakers last evening. Yes, the same Lakers that beat them by 55 last month. [Plain Dealer]
• Arsenal defeated Barcelona 2-1 in the first leg of their UEFA round of 16 matchup yesterday. If that Lionel Messi shot (pictured) had a wee bit more spin, Arsenal'd have been down two. But it didn't. So they weren't. Second leg is March 8 on Barca's home turf of Camp Nou. [Guardian]
G/O Media may get a commission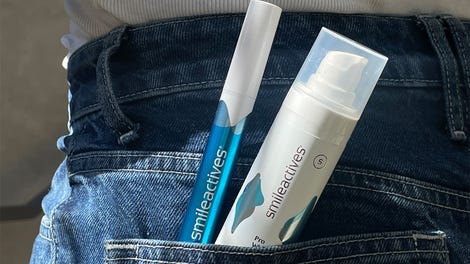 58% off
Whitening Powerhouse Pen & Gel Duo
• Ten years after his pappy died at Daytona, Dale Earnhardt Jr. captured pole position for the 500. He crashed yesterday, though, so he needs to switch rides. Hence, he'll now start at the back of the field. [Daytona Beach News-Journal]
• At least three ladies care enough about keeping the Atlanta Thrashers from moving to put on eye-black and wear tank tops to the rink. "I don't think there is an ability to stomach another $20 million in losses. We just can't do it," said co-owner Michael Gearon. "The reality is we need fans showing up and we need investors, or a primary investor." [AJC] (Photo H/T Red Light)
• The Wilpons will NOT cede control of the Mets. Oh no, they won't. [Wall Street Journal]
• Chicago Blackhawks coach Joel Quenneville was hospitalized in stable condition with an "undisclosed health concern, not of cardiac nature." Here's hoping for a speedy recovery. [Chicago Tribune]
• San Diego pitcher Mat Latos signed three baseballs that are up for bid on eBay. He wrote "I Hate SF!" on them. Which is truly a shame, because Sally Field probably doesn't think people really like her anymore. [Yahoo Sports]
• Richard Seymour is making bank off the Raiders, the kind of loot that will enable him to boast of being the highest-paid defensive player when he's locked out. [ESPN]
• The Steinbrenner boys are still trying find demand for their supply of padded seats ($1,750) and one square-foot portions of grass ($120) from old Yankee Stadium. [Business Insider]
****
Happy Thursday. If you see Paris Hilton, Larry the Cable Guy or Michael Jordan today, wish them a happy birthday. And if you see them in the same place at the same time, get night-vision video. Admit it, you'd watch.