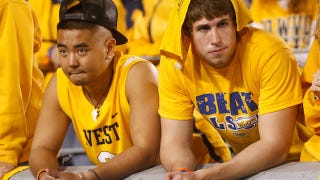 There's this:
The Big East requires a 27-month window of notification before teams may leave the league.
In other words, no earlier than the 2014-15 school year.
And then there's that:
The Mountaineers will begin competing in the Big 12 beginning with the 2012-13 athletic season.
Maybe the SEC already has a press release ready to sort it all out.
Big East officials say West Virginia gets invite to join Big 12 [New York Daily News]
West Virginia University To Join Big 12 Conference [Big 12 Sports]
EARLIER: Mizzou Will Join The SEC On Monday, According To SEC's Premature, Accidental Announcement