Those of us un/fortunate enough to have visited the Krystal restaurant at the mouth of Bourbon Street in New Orleans know it's a place where the occasionally odd, bizarre, or criminal events take place. We don't know which of these this incident is, if not all three. That's especially given that some people are claiming the victim in this is now dead, making the "This guy's life is over" line uttered in the video creepy. [Edit: He's not dead.] (We're trying to get in touch with New Orleans police. We'll update if we hear from them.)
The video was uploaded to BamaSportsForum's YouTube channel. Someone named "CK" is taking credit for the act, which as far as we can tell was conducted without any consent from the LSU fan. If you have any information about this, please let us know, and we promise we'll keep your tips anonymous.
Update (3:51 ET): We're told this is the Google+ page of the man claiming credit to being the teabagger.
Update (Jan. 17): Alabama TV Station Airs Teabagging Video That Features The Son Of The Station's Sports Director
Update 1 (Jan. 19): Is This The Alabama Teabagger?
Update 2 (Jan. 19): Brian Downing, Alleged Alabama Teabagger, Has Turned Himself In
G/O Media may get a commission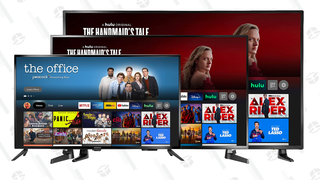 Up to 44% off
Prime Early Access - Insignia Fire TVs
Corndogs and Nuts... Roll Tide! [YouTube]