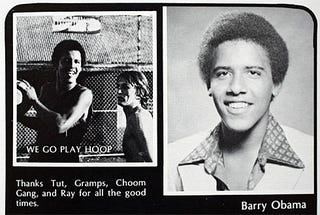 Barack Obama's high school, Punahou of Hawaii, was recently chosen as the school with the top athletic program in the nation by Sports Illustrated. This angered Hillary Clinton, who attended Maine East High in Parkridge, Ill., and John McCain, who was educated through oral tradition and cave drawings. Here are the state-by-state winners.
Today, with a K-12 enrollment of 3,760, Punahou is the largest single independent school in the U.S. It is also the oldest in the country west of the Mississippi, and seemingly the most overachieving. Since 1958 the Buff 'n Blue have racked up 368 Hawaii championships — a state-record 16 this school year alone, including eight in the past two weeks.
Obama — who was called Barry O'Bomber in his hoops playing days — has often admitted that he wasn't the best student in high school, calling himself somewhat of a slacker. On the other hand, I'm as sure as sure can be that Hillary in high school would remind us of Tracy Flick in Election.
At any rate, it's a shame that ESPN Rise is not up and active to jump all over this puppy.
Fast Times At Punahou High [Sports Illustrated]
SI Says Obama's School Is Nation's Best In Sports [USA Today]
Punahou Athletics Ranked Best In U.S. [Honolulu Advertister]