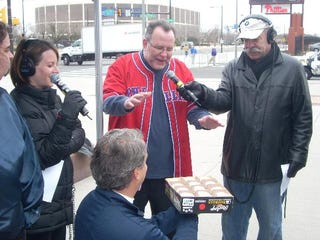 Yesterday morning, right in front of the Mike Schmidt statue at Citizens Bank Park, the Philadelphia Phillies had their balls blessed by a priest, a rabbi and a pastor with the hopes of giving 2007's team to beat an extra boost of godliness to kick off 2008. Well, God was napping yesterday, as the Phillies ended up getting trounced by the Washington Nationals, even though the holy water had yet to fully dry on the seams.
But Jahweh woke up late last night from his hangover and granted some divine intervention in the form of...Rudy Seanez.
Thank the Lord. Literally.
Even Blessed Balls Can't Help the Phillies Win On Opening Day [Lion In Oil]
More Ball-Blessing Photos [WMGK]