New York Jets fifth-round draft pick Oday Aboushi, the 22-year-old offensive lineman from the University of Virginia, is a physical freak. He's 6-foot-6 and weighs over 300 pounds, which is one of the main reasons why he's in the NFL. He's also a Palestinian Muslim, which is why the worst of us—the idiots, the trolls, the bigots—want him out.
Frontpage Magazine, a website started by David Horowitz, one of the nation's foremost Islamophobic clowns, were first to alert Americans to Aboushi's presence in the NFL when they published a story Tuesday painting the lineman as a Muslim extremist and anti-Semite. They supported their claim by linking to an Aboushi tweet, in which he shared a photo of an 88-year-old, Palestinian woman standing outside of her house in Jerusalem after being evicted to make room for Orthodox Jews.
That's tragic. I think that's tragic, at least, and some of you may, too. That doesn't make us anti-Semites or terrorists of course, but most of us aren't Muslim.
Yousef Munayyer from The Daily Beast has more:
The author even went so far as to try to connect Aboushi to a speaker who the INS charged with being part of a terrorist group. How can the the INS, which dealt with immigration and doesn't exist anymore, charge people with involvement in terrorism? By doing this in 1988, years before Aboushi was even born, and violating constitutional rights. Perhaps most insidious was the claim that Aboushi was anti-Semitic for using the term Nakba, which Palestinians use to describe the period of their expulsion and disposession from 1947 to 1949. Well, the author probably never learned that it was likely Israeli military who propelled the term into its modern usage. So there you go, the Israeli military is anti-Semitic too.
G/O Media may get a commission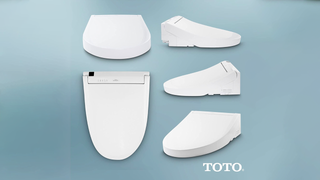 44% off
Toto Washlet Electronic Bidet Toilet Seat
So FrontPage exaggerated. The author, Joe Kaufman, lied. He bullshitted his readers, whom he trusted not to know or care about the full story, or the correct story. But...so what? It's what the good folks over at that obscure little publication do. Fuck 'em.
Because they're obscure, the only thing they can do is defecate in their hands, throw shit against society's collective wall, and hope someone notices. The problems arise, though, when people that we trust, people that we respect, do.
Yahoo Sports journalist Adam Waksman noticed [CLARIFICATION: Adam Waksman is part of Yahoo's contributor network, not a writer for Yahoo Sports], and this week penned an article in which he came to the same conclusion as the FrontPage buffoons—that Aboushi "is a potential disaster that needs to be dealt with before it becomes anything real." The link doesn't work, because the article was taken down. The article was taken down because Waksman largely took FrontPage at face value and spewed the same shit that he'd read from the site. What's terrible about this is that Yahoo has clout, credibility. We believe Yahoo, because we believe its writers are of a certain journalistic standard. [See clarification above.]
As Dave Zirin of The Nation points out, Aboushi was never quoted in the Yahoo piece. He was hardly even mentioned. Waksman used Aboushi as a stand-in for all potential Palestinians in the NFL. Waksman just rolled with FrontPage, because he didn't know enough, or didn't care enough, and was too lazy to report for himself. He didn't pick up the phone and give Aboushi a call. In his mind, there is no doubt: Aboushi is a Muslim, and is therefore is taking taking part in "anti-Semitic activism." In his mind, Aboushi is a Muslim, and already a criminal.
This hatred, this paranoia is a virus. And like any kind of virus, it spreads quickly. Jonathan Mael, new media coordinator for MLB.com, tweeted this yesterday:
We'll just leave that there, though we'd be remiss if we didn't note that Aboushi has never been accused of killing a man. There is no evidence that he plans to, either.
Credit it where it's due, we guess. Mael apologized today for his tweet:
So he apologized. But his tweet, and Waksman's article, both stemmed from the same place: a website run by white men who hate and fear brown ones, and are paid to promote their own bigoted feelings as truth. And sometimes, guys like Oday Aboushi, a Brooklyn-born Palestinian-American who beat all the odds and was rewarded by being drafted by his hometown team, has to suffer the consequences. He'll have to his entire career. Because the scariest, saddest, and most tragic thing about all of this is that someone who read FrontPage's article, or shared Yahoo's article, or stumbled upon Mael's tweet will sit back, think for a second, and say, "He's got a point."
Photo Credit: Associated Press